by Luisa Low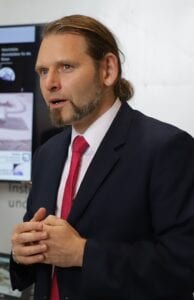 During this week's Space Café, SpaceWatch.Global publisher, Torsten Kriening had the opportunity to speak with one of the industry's "hidden gems", Professor Enrico Stoll, who is the new Chair of Space Technology at Technische Universität Berlin, Germany's first technical university.
Born and raised in the former German Democratic Republic and with a 20-year career spanning several continents, holding academic positions in Dresden, Moscow, Massachusetts, Munich and Sydney, he is an expert in aerospace engineering and astronautics. In his current role, he researches space technology, debris removal, manufacturing in space and space robotics.
This week, he and Torsten discuss TU Berlin's legacy of space innovation as well as Professor Stoll's own research into nano-sats and space debris.
A crash course in TU Berlin's 30-year small-sat history
Two years after the Berlin Wall came down, a small satellite program was launched at TU Berlin by Professor Udo Renner, a "visionary" who began developing small satellites to optimise telecommunication and to advance Earth observation.
These small satellites would be considered heavy by today's standards, weighing up to fifty-six kilograms, but they were some of the first of their class, coming to a stage where space infrastructure was big, bulky and cost millions.
Over the early naughties, further work in miniaturising satellites and nanoscience technologies was conducted by the program, with researchers creating the bedrock for game-changing technologies like a satellite to satellite communication — essential for constellation systems — and CubeSat orbit determination.
"With twenty-seven satellites now in orbit, that might actually be the largest number of satellites, launched by an academic chair."
TU Berlin's TuBin – Earth's fire alarm?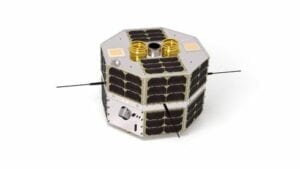 Currently, Professor Stoll is working on the custom-built, bespoke TuBin (TU Berlin Infrared Nano-satellite) – a nano-satellite that will observe the world in infrared.
Having been launched successfully as a payload in the SpaceX Transporter-2 Mission, TuBin's purpose is to act as an Earth observation and imaging system to determine sea surface temperatures and surface brightness temperatures.
This data will then be used to monitor and map thermal events, such as wildfires, which are a growing problem across the globe due to climate change.
"So all this fire detection is a thing now in aerospace industry… and there's currently a couple of startups going in this direction."
Having only been launched last week, it remains to be seen what data TuBin with gather, but with over one-hundred-and-eighty wildfires raging in what should be a mild Canadian summer, it's clear how necessary Earth observation is.
TU Braunschweig and TU Berlin – what's the difference?
Until February this year, Professor Stoll was the Head of the Institute for Space Systems at TU Braunschweig (known in the English speaking world as Brunswick), a Northern German university that led space debris research "before it was cool". Today, much of their work is based on modelling, developing advanced statistical simulations to model space debris down to the sub-millimetre scale.
"So, space debris, that can be ashes from solid rocket motors, coolants from old nuclear reactors aboard Russian satellites and stuff like this — so that is a really, really complex model there."
At Braunschweig, Professor Stoll modelled the space debris environment and developed systems for its removal, researched high-precision orbit determination and prediction, calculated collisions, and developed CubeSats.
However, although Braunschweig is a leader in developing solutions for space sustainability, Professor Stoll wanted to research satellite development, an area that TU Berlin excels in.
Being in Berlin, the university is also multicultural, diverse and teaches its international courses are in a mix of German and English.
"And on top of this, the company culture in Berlin is a little bit richer. And so are a lot of startups, a lot about aerospace companies. And it's a little bit of home here in Berlin for me as well."
To listen to Professor Enrico Stoll's insights into the space industry, you can watch the full program here:
Space Café is broadcast live Tuesday at 4 pm CEST. To subscribe and get the latest on the space industry from world-leading experts visit – click here.
Luisa Low is a freelance journalist and media adviser from Sydney, Australia. She currently manages Media and Public Relations for the University of Sydney's