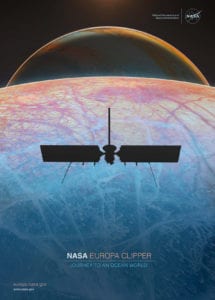 Paris, 26 July 2021. – NASA has selected SpaceX for launching its first mission to explore one of Jupiter's 79 moons, Europa, with a total contract award amount of $178 million, NASA said.
The Europa Clipper mission will launch an orbiter around the gas giant in October 2024, from the Kennedy Space Centre's Launch Complex 39A on a Falcon Heavy rocket to gather data of the moon's internal ocean, surface composition and search for water vapour emitting from under its icy crust.
As Europa's internal global ocean is twice the size of Earth's, scientists would like to assess if the conditions there are suitable for life.
The mission's key objectives include high-resolution imaging of the surface as well as seeking signs of any geological activity, hunting for surface lakes and determining how deep and what the salt concentrations of the oceans are.