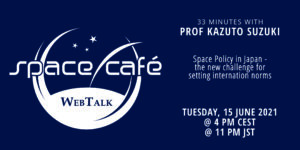 This Space Café WebTalk will feature Prof. Kazuto Suzuki , Professor of Science and Technology Policy, Graduate School of Public Policy at the University of Tokyo, Japan, in conversation with Torsten Kriening, publisher of SpaceWatch.Global.
Space Policy in Japan – the new challenge for setting international norms
What is Japan's role in orbital services and active debris removal?
Since Astroscale is working on concerning orbital services and the removal of debris, there is a call for the Japanese government to set up a rule for orbital services and ADR, which may eventually be the first step to set up an international norm. This will be a way to set up a de facto rule, and the chances are not too high but would be a way to break the current deadlock.
Together with Prof. Kazuto Suzuki these issues will be addressed, and the role of Japan in setting up these new international norms will be explored and discussed.
The audience will have an opportunity to ask questions in dialogue with Prof. Kazuto Suzuki.
SpaceWatch.Global is a Switzerland-based digital magazine and portal for those interested in space and the far-reaching impact of the space sector.
This Space Café WebTalk will be conducted in English on 15th June 2021 at 4pm CEST.
Reserve your place today.