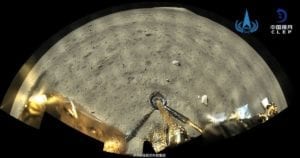 Berlin, 18 June 2021. – The future of the exploration of Moon and Mars took center stage at the IAF Global Space Exploration Conference (GLEX 2021) in St. Petersburg, the federation said.
Yanhua Wu, Vice Administrator of the China National Space Administration (CNSA) and Sergey Saveliev, Deputy Director General for International Cooperation at Roscosmos, presented a detailed roadmap for the development of their three-phase strategy for the International Lunar Research Station (IRLS): in 2021-2025, the lunar reconnaissance with six missions; in 2026-2035, technology demonstrations, cargo delivery and sample return; and from 2036 and beyond, the crew landing and utilization phase, the IAF said.
China also presented its space transportation and mobility solutions for human Mars missions: Tianwen-1's remote sensing mission, and its Zhurong rover.
The United Arab Emirates (UAE) announced their plans to send a rover to the Moon by 2024/2025. The UAE is simulating a habitat on the Red Planet in its spectacular Mars Science City project in the desert of Dubai.
The French Centre National d'Etudes Spatiales (CNES) presented plans for human spaceflight capabilities at the Guiana space center.