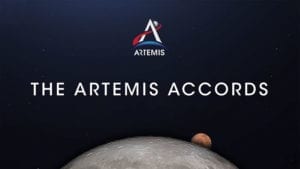 Luxembourg, 27 May 2021. – South Korea has become the 10th country to sign the Artemis Accords, NASA announced.
The South Korean Minister of Science and ICT Lim Hyesook signed the Artemis Accords for the country in Seoul, the U.S. space agency said.
South Korea joins Australia, Canada, Italy, Japan, Luxembourg, the United Kingdom, the United Arab Emirates, Ukraine, and the United States, and is the first nation to sign the Accords under the Biden Administration, NASA said.
NASA announced the establishment of the Artemis Accords in 2020. The accords reinforce and implement the 1967 Treaty on Principles Governing the Activities of States in the Exploration and Use of Outer Space, Including the Moon and Other Celestial Bodies, otherwise known as the Outer Space Treaty, NASA says.
They also reinforce the commitment by the United States and partner nations to the Registration Convention, the Agreement on the Rescue of Astronauts, and other norms of behavior that NASA and its partners have supported, including the public release of scientific data.