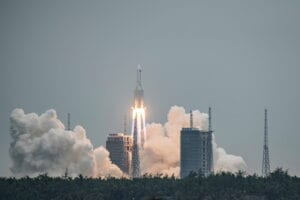 Paris, 10 May 2021. – Debris from the Chinese Long March 5B rocket that brought the country's space station to orbit crashed into the Indian Ocean north of Maldives, U.S. and Chinese officials said.
The huge piece of space junk made an uncontrolled re-entry back into Earth's atmosphere over the Arabian Peninsula Saturday night.
China's space agency said that most of the rocket was destroyed during re-entry.
In a sharp reaction, NASA's new Administrator Bill Nelson said: "It is clear that China is failing to meet responsible standards regarding their space debris."
"Spacefaring nations must minimize the risks to people and property on Earth of re-entries of space objects and maximize transparency regarding those operations," Nelson said.
The Chinese state-run newspaper Global Times commented in an editorial on Sunday, reported by CNN: "Their hype and smears were in vain"; it accused U.S. scientists and NASA of "acting against their conscience" and being "anti-intellectual", CNN reported.