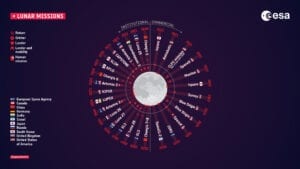 Paris, 19 May 2021. – "The first ever lunar communications & navigation service": Europe pushes ahead with its plan to place communication and navigation satellites around the Moon.
Under its Moonlight initiative, "a bold proposal that takes us a step closer to creating a commercially viable constellation of lunar satellites", the European Space Agency (ESA) supports two consortia of European companies which embark on the design of telecommunications and navigation services for Moon missions, ESA said in an invitation to a Moonlight media briefing scheduled for tomorrow.
"Dozens of international, institutional and commercial teams are planning to send missions to the Moon, envisaging a permanent human lunar presence," ESA says in the invitation. "Using a shared telecommunications and navigation service would reduce the design complexity of future individual missions and make them lighter, freeing space for more scientific instruments or other cargo, making each individual mission more cost-efficient."
The first Moonlight consortium will be led by Surrey Technology through its lunar services brand SSTL Lunar and as manufacturer of the satellites, ESA said. The consortium also includes Airbus, SES, Kongsberg Satellite Services, the Goonhilly Earth Station in the UK, and the British satellite navigation company GMV-NSL.
The other consortium will be spearheaded by Telespazio and work with Thales Alenia Space, Inmarsat, MDA, OHB, Altec, Argotec, Nanoracks, and two Italian universities, ESA said.