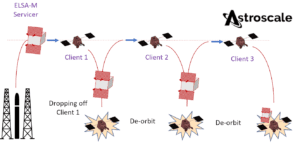 Paris, 24 May 2021. – Astroscale drives its space debris removal technology with a partner funding by OneWeb under the European Sunrise program, Astroscale announced.
The global satellite communications network OneWeb signed a €2.9 million funding award with Astroscale "to mature their technology and capability towards a commercial service offering by 2024", Astroscale said.
The award is part of a larger €37 million beam-hopping satellite program granted from the UK Space Agency via the European Space Agency (ESA)'s Sunrise program; it includes OneWeb, SatixFy, Celestia UK and Astroscale UK.
Astroscale's Sunrise-funded program, known as ELSA-M, will develop the technology to remove multiple retired satellites in a single mission. It will "drive down service costs and incentivise large satellite constellation partners to accelerate the speed at which they remove space junk", Astroscale said.
Astroscale's ELSA-d demonstration mission is currently in low Earth orbit (LEO), preparing for a series of complex rendezvous and close proximity debris capture and release manoeuvres this summer.