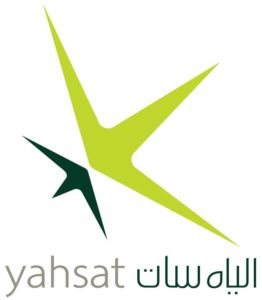 Berlin March 2021. The UAE-based global satellite operator, Al Yah Satellite Communications Company (Yahsat) has seen immense strides in both technology and opportunity over the last year.  In the face of a pandemic and unpredictable space market, Yahsat prevailed with ingenuity and strategic partnerships that are enabling the company to quickly emerge as a leader in the industry and a principal stakeholder and contributor to the United Arab Emirates' (UAE) transformation as a space economy.
In less than a decade since it launched its first satellite, Yahsat has grown to be a global enterprise, with an enviable track record of accomplishments that are a source of pride to the UAE. Emirati in spirit, its approach is very international and inclusive. Through its various businesses – Yahsat Government Solutions, Thuraya, YahClick and Yahlive, Yahsat caters to diverse markets, nationalities and creeds.
By revenue, Yahsat is among the top ten satellite services operators in the world. Yahsat presently covers 80% of the world's population across 5 continents. By offering both fixed and mobile satellite solutions, it is one of the only operators in the world to do so. It provides services on C, Ku, Ka and L-bands.  The company is owned by Mubadala, one of the world's largest sovereign wealth funds, which drives the diversification of Abu Dhabi's growth.
"Made in the UAE"
As an industry catalyst, Yahsat is enabling a diversified UAE economy. Through longstanding partnerships with the UAE Armed Forces and other national initiatives, Yahsat is driving local growth and aims to encourage national production of advanced communication technologies.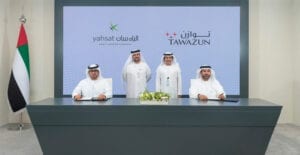 In February Yahsat signed a Memorandum of Understanding (MoU) with Tawazun Economic Council to establish a new company that will develop critical in-country capabilities. This is an active partnership aiming to develop and manufacture advanced satellite communication solutions within the UAE.  The newly formed company will focus on three main streams: Aeronautical Satcom Technologies, Satellite Modem Technologies, and Enablement of other Satcom Products and Technologies.
These collaborations are vital to the diversification of the UAE's economy.  In fact, the first seed project will include the development of a protected, multi-platform satellite modem for government and defense markets in the UAE and internationally.  The new company will harness local knowledge, manufacturing capabilities, and technology leadership to propel national industrialization.  While the new efforts will rely on and leverage expertise in the UAE, the team plans to simultaneously engage select international experts to grow as a global leader in this sector.
Yahsat is also charged with ensuring that the new company's products meet the requirements of its government customers. The goal is enabling the UAE Government and other users to address key technology development. It will source key product development capabilities from leading solution providers and manufacturers to lay the foundation for local production lines and integrated value chain management.
This Yahsat and Tawazun partnership could simultaneously infuse the local economy while establishing the UAE as a producer of satellite-enabled defense communication technologies, solidifying the country as a sustainable and sovereign space economy.  The company is helping the country to fulfill its goals of gaining further autonomy through several initiatives: the Programme Management Office (PMO) and the Yahsat Space Programme Masters.
"The real asset of any advanced nation is its people…" 

~ Sheikh Zayed bin Sultan Al Nahyan.
Programme Management Office: Homegrown Talent
Yahsat is leading the drive to develop homegrown talent, clearing the way for greater autonomy for the UAE in the space and satellite sector. Today, 51% of Yahsat's workforce is Emirati and 92% of its satellite operators are UAE nationals.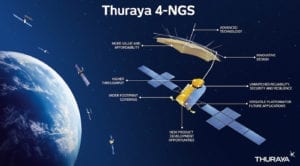 In 2020, Yahsat established a Programme Management Office (PMO) for Thuraya 4-NGS, its new L-band satellite being built by Airbus. Thuraya 4-NGS is part of a US $500 million programme that will transform Thuraya's space and ground systems, enabling its next generation products and solutions portfolio.
Yahsat has chosen six Emirati engineers from its Technology Department to form the PMO, which will oversee the design, assembly, integration, and testing phases of the satellite subsystems, while focusing on the timely delivery of the spacecraft for launch in late 2023. All team members have played key roles in delivering Yahsat's previous satellite programmes and bring solid, hands-on experience to the Thuraya 4-NGS PMO team.
Beyond managing different aspects of spacecraft development, the newly formed PMO will serve as the primary liaison between the satellite manufacturer, Airbus, and Yahsat's headquarters to ensure a smooth on-time delivery.  In addition, there will be a separate team of engineers under the supervision of the PMO that will gain unprecedented insights into the workings of the state-of-the-art all-electric Airbus Eurostar Neo Platform through on-the-job training and knowledge transfer.
Thuraya 4-NGS is scheduled to be operational by 2024, and until the completion of the programme, the PMO team will be based out of Airbus's manufacturing bases in Toulouse, France and Portsmouth in the United Kingdom as well as at the eventual launch site.
In addition, Yahsat hosts In-house career development programmes. These programmes are designed to attract and retain talented Emirati engineering and non-engineering personnel. They offer multiple opportunities for career development and on-the-job training with leading local, regional, and international satellite technology providers.  The Yahsat Mentorship Programme enables early career team members to learn business and leadership skills from senior colleagues.
The Middle East's First Master's Space Programme
Yahsat is committed to using connectivity as a tool to help drive social change, increase education opportunities, and develop communities. Through a partnership with Northrop Grumman and Khalifa University, Yahsat created the first multidisciplinary, academic, space programme in the UAE.
The Yahsat Space Programme offers the Middle East's first Masters curriculum in Space Systems and Technology.  As part of the academic experience, Yahsat offers students access to the Yahsat Space Laboratory.
The laboratory priority is skills development for Emirati Engineering Graduates.  The Yahsat Space Laboratory is the first space systems lab in UAE with Autonomous Intelligent Vehicles (AIV) facilities that can cater CubeSats of up to 6U and a mass up to 10 kgs.  Currently, the lab supports four nanosatellite projects: MYSat-1; MYSat-2 (Yahsat funded); MeznSat; and the UAE MiniSat Competition (UAESA funded).  It offers a VHF/UHF/S-Band Ground station capable of autonomous operations. To day, the lab has actively participated in the Young Future Energy Leaders, Ektashif outreach Program. and space events.
The Masters programme has inspired youth involvement in the sector, prompting Yahsat to establish a Youth Council.  The Council is a group led by promising Emirati space and satellite professionals that teach STEM education throughout the UAE.  Through educational fairs, camps, and other related campaigns these professionals build awareness for space opportunities and innovation directly with school and college students.
In fact, in 2020 the Ministry of Education recognized Yahsat with an Award of Appreciation at the National Science, Technology, and Innovation Festival while the Ministry of Human Resources and Emiratization awarded them "Best Company of the Year".
"They say the sky's the limit…and we say that the sky and outer space are just the beginning" 

~ Sheikh Mohammed bin Rashid Al Maktoum.
Satellite Innovations and Long Game
What does all this heavy investment in people mean?
For one, the UAE is veering away from hydrocarbons and transitioning into a knowledge-based economy.  In 2020, when Yahsat commenced construction of Thuraya 4-NGS, the next-generation telecommunications system for Thuraya, it bolstered a shift for the nation.  In its quest to be a leading aerospace and defense technology hub, Yahsat contributions in and for the UAE are fast-tracking its space programme.  This is in line with the vision and aspirations of its leadership.
In addition, as the UAE's primary satellite operator driving its critical satellite and communications programmes, Yahsat is playing a key role in orchestrating the shift from hydrocarbons to advanced space and satellite technologies.  It has built an impressive network of international alliances and joint ventures with top space and satellite technology developers such as Northrop Grumman, Airbus, SES, and Hughes.
In a long term plan to maintain and grow these critical relationships, it is no wonder Yahsat is investing so carefully in grooming its next generation of leaders to manage the company's satellite operations.  Their team will play an important role in developing the next generation of Emirati talent and inspiring the next set of leaders in the industry.
Social impact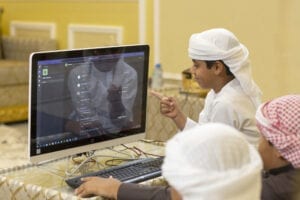 Yahsat is going one step further: to serve humanity.   By working with educational institutions, NGOs, and relief organizations through a network of Service Partners Yahsat support and sponsors a range of social responsibility projects and activities. In line with the Abu Dhabi Economic Vision 2030, Yahsat has a fundamental commitment to contribute to the welfare of the people of the UAE.
Yahsat's role in connecting communities has become ever more critical during the COVID-19 pandemic. Through partnerships with the UAE Ministry of Education and Abu Dhabi Department of Education and Knowledge, free satellite broadband services are offered in support of e-learning initiatives across the country. In a recent move, Yahsat has signed a Memorandum of Understanding with Emirates Red Crescent Authority to enable educational and humanitarian initiatives in areas cut off from terrestrial telecommunication networks.
As a signatory of the UN Crisis Connectivity Charter, Yahsat is working to solve the communication challenges faced by first responders and health missions in the impoverished regions of the world. Thuraya provides them a centralized, always-on satellite communications platform that is independent of terrestrial systems, and hence unaffected by disasters and other large scale disruptions.