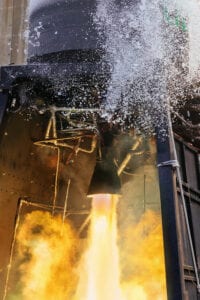 Paris, 6 April 2021. – Lockheed Martin purchased up to 58 launchers from ABL Space Systems until 2029, the company said.
Lockheed Martin will purchase up to 26 vehicles through 2025 and then up to 32 additional launches through 2029, Lockheed Martin said.
"ABL Space Systems will provide Lockheed Martin with routine launches of RS1 rockets to accelerate payload technologies into orbit."
Launches could use a network of U.S. and international launch sites, including Vandenberg Space Force Base, Cape Canaveral Space Force Station and in the United Kingdom, the company added.
ABL provides launch services with the RS1 launch vehicle and GS0 deployable launch system, which are both under development with funding from the U.S. Space Force.
RS1 is capable of delivering payloads of up to 1,350 kg into low Earth orbit (LEO). GS0 is a containerized system operable by a small team to rapidly launch RS1 from new sites in the U.S. and around the world.