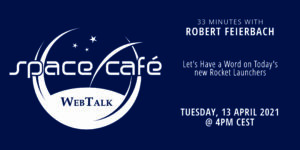 Join SpaceWatch.Global for an interesting and informative Space Café WebTalk featuring Robert Feierbach, President and Founder of Clarkebelt Space, Luxembourg/USA.
This event will take place on 13 April 2021 at 4:00 pm CEST.
There are in excess of 100 companies worldwide developing new generation rocket launch systems today. While many of these will not survive the long and expensive development path to achieve operational capability, there are some players already launching missions and proving they can do so with an innovative approach to manufacturing, using different materials and 3-D printing rocket engines and cores, and also using a different operational model for their launch campaigns.
In all, there is no shortage of new rocket systems and sources to fund these ventures. We will talk about this, and what it means for the small satellite industry today.
Our talk will cover:
Vertical launch and Horizontal air-launch
Space Tugs (and the business behind them)
Space Debris removal satellites (and the business behind them)
Rideshare launches
Dedicated smallsat launches
Medium vs small launch vehicles
Composite vs metal launch cores
3-D printed rocket engines and core stages
Rocket stage reusability
Spaceports and related regulation
The audience will have an opportunity to ask questions in dialogue with Robert Feierbach.
This Space Café WebTalk will be hosted by Torsten Kriening, publisher of SpaceWatch.Global.
SpaceWatch.Global is a Switzerland-based digital magazine and portal for those interested in space and the far-reaching impact of the space sector.
This Space Café WebTalk will be conducted in English. Reserve your place today.