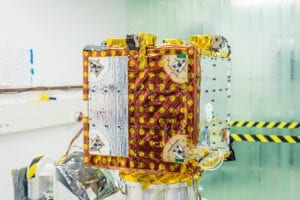 Luxembourg, 28 April 2021. – OHB wants to launch with Rocket Factory Augsburg (RFA) in 2024 and 2025, the company said.
OHB Cosmos and the Luxembourg-based OHB affiliate LuxSpace signed a contract for a dedicated launch with RFA for upcoming missions scheduled for mid-2024 and 2025, OHB said.
OHB is a strategic investor in RFA. OHB Cosmos is the launch service provider of the OHB group and has launched all of the German Bundeswehr's SAR-Lupe satellites.
LuxSpace is OHB's expert for small satellite platforms like the recently launched ESAIL satellite, which was built on LuxSpace's Triton-2 platform and developed in collaboration with the European Space Agency (ESA) and the Earth observation company exactEarth.
ESAIL broke records recently by capturing two million messages from ships at sea on a single day.