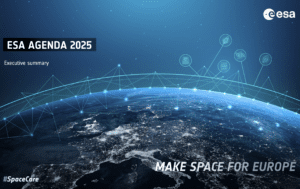 Paris, 8 April 2021. – A clear focus on business: The new head of the European Space Agency (ESA), Josef Aschbacher, presented ESA's Agenda 2025 and what he wants the agency to focus on to "Make Space for Europe", ESA said.
The ESA Director General set five priorities for the next years: to strengthen the relations with the EU and the European Commission, to "boost commercialization for a green and digital Europe", to "strengthen space for safety and security", to work out ESA's cornucopia of programmes and to continue the organisation's transformation.
The connection between ESA and the EU is "fundamental for space" in Europe, the agenda says, and ESA "should become the natural technical partner at European level for developing space infrastructure with safety and security purposes". It thus aims for "new flagship space projects" like the "proposed secure connectivity capability" – which refers to the plans for a secure and sovereign European satellite broadband constellation – and the Cassini initiative to support space businesses and the industry.
"To benefit from the growing space economy in Europe", Aschbacher's agenda's focuses on the commercialization, the support for the growing New Space sector and space companies' contribution to a "green and digital Europe". "ESA must be more forceful, more dynamic and faster to interact with start-ups and companies to help them to succeed", the agenda says.
Looking to space and space exploration, ESA counts a European Moon mission to the list of top actions. "ESA will negotiate with NASA to land the first European on the surface of the Moon."