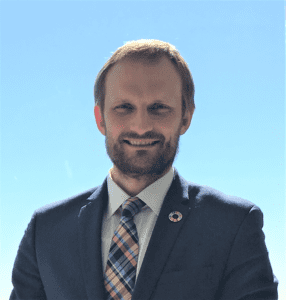 In this week's Space Cafè WebTalk, Nikolai Khlystov, Lead, Shaping the Future of Mobility and Space at World Economic Forum, Geneva, Switzerland talked about ways and initiatives that support sustainable peace in space.
Konstantin Tsiolkovsky "Earth is the cradle of humanity, but one cannot live in a cradle forever"
Space is becoming critical for us on earth, but it has become a place that is not just serving the earth's population, but in its own right, a place where things will happen for the sake of space – manufacturing, energy generation, deep space travel, living in space, etc.
With a lot of activity in LEO and different actors moving at different speeds and scales, how do we align better and collaborate in an effective way?
In the coming decades, how can we achieve sustainability and accountability as a result of true collaboration for the benefit of all?
The future of Space Traffic Management and the broader topic of governance of space is one of the most critical topics for humanity to address in the coming decades. By mid-century, tremendous possibilities for Earth and space will open up, meaning that we need to start addressing legal, technical, and socio-economic elements in space.
All these efforts require multi-stakeholder collaboration – businesses, governments, international organizations, civil society, working together.
We cannot repeat the mistakes of the past. But are we on the right track?
Nikolai Khlystov also answered relevant questions from the audience.
This Space Cafè WebTalk, held on 23 February 2021, was hosted by Torsten Kriening, publisher of SpaceWatch.Global. 
SpaceWatch.Global
is a Switzerland-based digital magazine and portal for those interested in space and the far-reaching impact of the space sector.
Here the video: