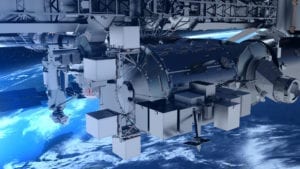 Luxembourg, 22 January 2021. – The European Space Agency (ESA) and Airbus want to place two scientific payloads on the Bartolomeo platform of the International Space Station (ISS) in 2022 and 2024, ESA said.
One mission is the Exobiology Platform (EXPO) which will serve for a set of radiation experiments aimed at better understanding the evolution of organic molecules and organisms in space, ESA said. At the end of its three-year mission, the EXPO samples will be returned to Earth for detailed investigation and analysis.
The other payload is the Euro Material Ageing experiment platform (SESAME), developed by the French Space Agency (CNES). This mission will study how materials age in space. The experiments will be returned to Earth after a year.
Both orders, amounting to € 6.5 million, are the first under a new Bartolomeo framework agreement between ESA and Airbus.
Airbus' Bartolomeo can host up to twelve payloads and is operated by Airbus, ESA, NASA and the ISSS National Laboratory. The platform was launched and robotically attached to the ISS Columbus Module in 2020. Following the final connection of the cabling during in early 2021, the platform is ready for in-space commissioning.