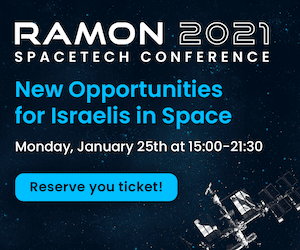 We are proud and excited to invite you to the
Ramon 2021 SpaceTech Conference!
Join the conference on
Monday, January 25th
to explore your new business opportunities in space!
Ramon SpaceTech 2021 is continuing in the footsteps of Ilan Ramon, the first Israeli astronaut, to empower the emerging space industry in Israel to become a global innovation center. This conference is designed for startups, existing industries, research institutes, and academia to assist them to better understand how they can become a more significant participant in the rapidly expanding global space enterprise.
In 2022, Eytan Stibbe will become the first Israeli onboard the International Space Station, creating a great opportunity for Israeli researchers and startups to also participate with their ideas and experiments.
The conference will take place in an innovative virtual reality platform and will include experts from all around the world: Gwynne Shotwell, Dr. Ellen Stofan, Charlie Bolden, Michael Suffardini, Her Excellency Sarah bint Yousef Al Amiri,  and many others.
For a 50% discount, use the Promo Code:
Ramon50
at registration.
All net proceeds from The Ramon SpaceTech Conference 2021 will be utilized by the Ramon Foundation for additional Israeli space education and scientific projects.