This Space Café WebTalk will feature Ran Livne, Director General of the Ramon Foundation, in conversation with Torsten Kriening, publisher of SpaceWatch.Global.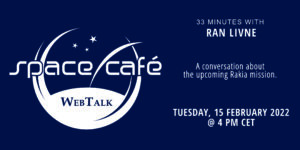 A conversation about the upcoming Rakia mission.
Ran has been the director-general of the Ramon Foundation since June 2015. The foundation has 101 employees and is one of Israel's most prominent non-profits. In recent years, the foundation's educational activities, established by Rona Ramon, have spread to all parts of Israel (80 local municipalities) and became global- with operations in Singapore, Ghana, Chile, and Slovenia. At the same time, the foundation became a key player in the Spacetech scene in Israel as it facilitates the Israeli space agency's innovation workshops, international conferences, meetups, and accelerators.
Before the Ramon Foundation, Ran served for four years as head of business development at the strategic consulting firm TARA. He consulted leading public bodies in Israel: local authorities, higher education institutions, hospitals, and nonprofit organizations. Livne was also the chairman of the biggest student bodyboard in Israel (Tel Aviv University). Ran is a graduate of the International Space University. He holds a bachelor's degree in sociology and literature from Tel Aviv University and an MBA from the global strategy track at the Interdisciplinary Center in Herzliya.
In this webtalk, we will discuss the upcoming Rakia mission. In 2020, the Ramon Foundation became the first nonprofit in the world to manage a human-crewed space mission. The foundation facilitated all science, education, and outreach activities of Mr. Eytan Stibbe, the second Israeli in space who takes part in the Axiom1 mission. The Rakia mission (The Israeli part of Ax1) consists of over 30 experiments and technology demonstrations from various fields of the Israeli startup scene. Its education program plans to touch over 1,200,000 children across the country.
The audience will have an opportunity to ask questions in dialogue with Ran Livne.
SpaceWatch.Global is a Switzerland-based digital magazine and portal for those interested in space and the far-reaching impact of the space sector.
This Space Café WebTalk will be conducted in English on 15 February 2022 at 4 pm CET.
Reserve your place today.