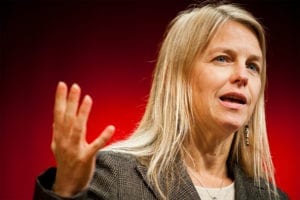 Berlin, 25. Dec. 2020. – Dava Newman, an MIT professor of aeronautics and astronautics whose groundbreaking work has advanced human performance in space with the goal of interplanetary reach, has been named the new director of the MIT Media Lab, effective July 1, 2021.
"Leading the legendary Media Lab is a dream for me, and I can't wait to help write the next chapter of this uniquely creative, impactful, compassionate community," Newman says. Currently she is the Apollo Program Professor of Astronautics in MIT's Department of Aeronautics and Astronautics, and a faculty member in the Harvard-MIT Program in Health Sciences and Technology.
Newman brings a boldly interdisciplinary perspective to a lab famous for its free-ranging approach to technological innovation. Her work has integrated engineering, design, and biomedical research to better understand and facilitate human adaptation to low-gravity environments. Her career interests also encompass educational innovation and access, climate change, the performing arts, and science and technology policy.
Newman's unusually broad range of interests combined with disciplinary expertise and talent for invention fit with the Media Lab's approach of combining diverse perspectives to build more productive, equitable, and satisfying societies.
"I really see the MIT Media Lab as the best place in the world to bring together science, engineering, art, and design, to creatively deal with the huge challenges humanity is facing," Newman says. "The magic of the Media Lab — which I hope to help build on — is to provide a trusted, open-minded, stimulating space where each person can contribute extraordinary expertise while being stretched beyond their comfort zone to collectively imagine a better, bolder future."
Newman has served as principal investigator on four space missions, developing new experiments and techniques for measuring the dynamics of astronaut activity on the Space Shuttle, the Mir space station, and the International Space Station. She has developed four advanced suit concepts for intravehicular and extravehicular activity in space and has broken new ground in studying the control of astronaut motion.