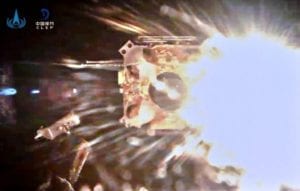 Luxembourg, 4 December 2020. – China's spectacular Moon mission continues: The Chang'e-5 probe left Moon's surface yesterday with samples of dust and regolith on board, the BBC reported.
"Right on cue, at 15:10 GMT, an ascent vehicle lit its engine to head up to a service module that will shepherd home the rock and dust materials", BBC said. "Chang'e-5 still has some key steps to negotiate to achieve mission success. The ascender has to rendezvous with the orbiter, and also pass over the samples. These will be enclosed in a module that will be aimed at Inner Mongolia. This module will have to survive a fiery, high-speed descent through Earth's atmosphere to get to the ground."
Meanwhile, the U.S. space agency NASA has selected the companies which it wants to pay to collect material from the surface of the Moon.
NASA has selected four companies to collect lunar regolith and transfer ownership, the agency announced: Lunar Outpost of Golden, Colorado; Masten Space Systems of Mojave, California; ispace Europe of Luxembourg; and ispace Japan of Tokyo. NASA wants to pay a total of $25,001 to these firms.
The one dollar goes to the startup Lunar Outpost which proposed to collect regolith for this symbolic amount at the lunar South Pole in 2023.
The companies will collect lunar regolith from any location on the Moon and provide imagery to NASA of the collection and the collected material, along with data that identifies the collection location, NASA said. Subsequent to receiving such imagery and data, an in-place transfer of ownership of the lunar regolith to NASA will take place.
Bidding one dollar was "in fact trivial" for Lunar Outpost, NASA said, because the company is already planning to collect lunar material as a payload on a Blue Origin mission.