by Blaine Curcio and Jean Deville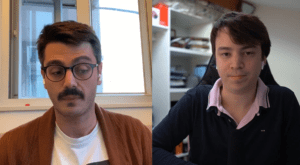 As part of the partnership between SpaceWatch.Global and Orbital Gateway Consulting we have been granted permission to publish selected articles and texts. We are pleased to present "Dongfang China Aerospace News Roundup 22 Nov – 29 Nov 2020".
Hello and welcome to another episode of the Dongfang Hour China Aero/Space News Roundup! A special shout-out to our friends at GoTaikonauts!, and at SpaceWatch.Global, both excellent sources of space industry news. In particular, we suggest checking out GoTaikonauts! long-form China reporting, as well as the Space Cafe series from SpaceWatch.Global. Without further ado, the news update from the week of 23-29 November.
Chang'e-5 Lunar Return Mission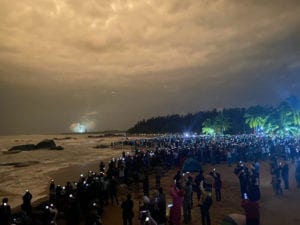 On Tuesday morning (24/11 CN time) saw the launch of Chang'e-5 take place from Wenchang Launch Center in Hainan. The launch was a success, and represents China's first lunar sample-return mission. It is also the first sample-return mission since the Soviet Luna 24 mission in 1976. During the launch, we saw large crowds of space fans on the beach in Hainan watching from a distance, with a stunning photo below capturing the action.
After a number of maneuvers in its Earth-Moon trajectory, the spacecraft successfully braked and entered lunar orbit. Other maneuvers are planned to adjust the trajectory to the ideal lunar orbit for landing in the planned land site (Mons Rümker in the Ocean of Storms).
A quick overview on what will happen next:
at the periapsis of the lunar orbit (closest to the moon), the lander/descent module detach  and lands on the moon.
The drilling and sample collection begins, after which the ascent module takes off leaving the lander on the moon.
The ascent module deploys its solar panels, and performs a docking with the orbiter, and places the sample in the return capsule.
The ascent module is then discarded, and the orbiter enters a Moon-Earth trajectory
Once back in Earth's orbit, the return capsule separates and re-enters the atmosphere, to land in Inner Mongolia December 16-17.
With 2kg of lunar samples (initial weight of spacecraft: 8,2 tons!).
It is also worth noting that the Chang'e 5 mission is not just a "revisit" of a previous lunar mission. It is significantly more sophisticated:
In terms of the amount of samples (2 kg vs 170 gr for Luna 24)
Heavier mission (8,2t vs 5,8t for Luna 24)
Sophisticated instruments for automated landing, obstacle avoidance, and geology analysis.
China Satcom replacing older radio & television satellites
An article by Satellite World revealed that China Satcom would be replacing a number of older radio and television satellites between 2021 and 2023. All satellites would be purchased from CAST, and based on the DFH-4E satellite platform (enhanced version of the DFH-4 GEO platform). The satellites will be put into orbit by the LM-3B, China's current workhorse for geostationary orbit. The transaction was said to reach 3,918 billion RMB (approx 600 million USD).
Below is a detailed list of the satellites:
Chinasat 6D (to replace 6A; C & Ku band payloads)
Chinasat 6E (to replace 6B; C & Ku band payloads)
Chinasat 9B (to replace 9A; Ku BSS band payloads)
In addition, the article announced the Chinasat 26 (broadband comms, Ka band) satellite, which will be a welcome addition to the currently operational Chinasat-16, the Shijian-20, and the future Chinasat-19.
This comes after a series of unfortunate failures of broadband satellites (SJ-18 in 2017, Chinasat 18 in 2019).
It will be interesting to watch the impact of the increase in Ku and Ka-band capacity in the coming years over China and the Asia-Pacific region, with ChinaSat having noted in other presentations plans to have ~500 Gbps of capacity by 2023. . It is also noteworthy that none of these satellites are specified as being the Dongfanghong-5 (DFH-5) bus–the first 4 are specifically DFH-4E, and ChinaSat-19 is not specified. CAST has been developing the DFH-5 as its next-generation satellite bus for some time, with the Shijian-18 satellite–launched/failed in 2017–being the first and to date only DFH-5 to reach the launch pad. Recently-ordered Apstar-6E for APT Satellite, a CASC subsidiary, was noteworthily also using the DFH-4E.
US Administration preparing to blacklist 89 companies with "military ties" according to Reuters
According to Reuters, the Trump administration is preparing to blacklist 89 Chinese companies, including a large number of major Chinese aviation companies such as COMAC (building the C919) and the aerospace conglomerate AVIC. U.S. suppliers will" need special licenses to sell a broad set of commercially available items to such companies" according to the piece by Reuters.
Are we heading towards a "post-Cox Report" situation for aviation as well?
If this blacklist is made official and effective before the Biden administration take-over, this could lead to a total disruption of the civil aviation industry in China. The blacklist bears a strong resemblance to the restrictions US space companies faced when selling to China, after the Cox Report in 1998. The consequences on both sides would be more massive for aviation:
China is no small market to Boeing. It represents 20% of the entire global commercial aviation market, and where Boeing is a dominant player alongside Airbus (with a slight advantage for Airbus).
The disruption would be devastating for the Chinese civil aviation market. Aircraft like the C919 depend heavily on foreign technology, and notably US suppliers such as General Electric, Honeywell, Collins Aerospace, etc. While China's local supply chain has grown tremendously, it still depends heavily on non-Chinese suppliers.
Could decoupling happen in aviation? A different industry from space, as it is a much more international and interlinked industry. We also note that AVIC has a number of US subsidiaries or JVs, almost all in non-sensitive industries such as the manufacturing of very small aircraft (Cirrus Aircraft). Map below from linked Bloomberg article on AVIC's US business interests.
Discussions on social media: a ploy to pressure the CAAC to re-authorize the 737MAX (FAA cleared the 737 Max to return to flight earlier this month)
Bloomberg article on AVIC:
https://www.bloomberg.com/news/features/2020-10-12/china-aerospace-firm-avic-raises-us-alarm-over-ties-to-ge-airbus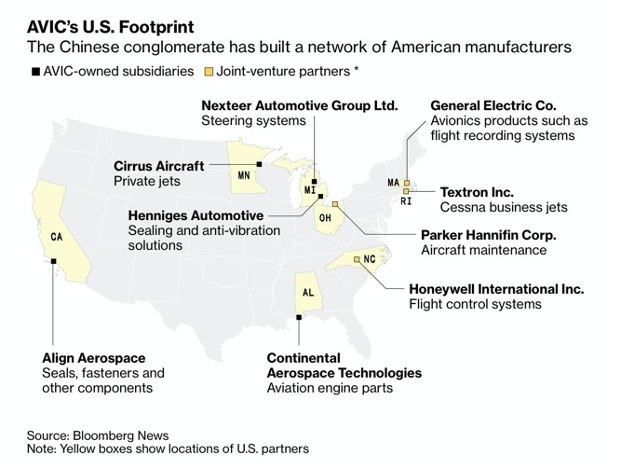 China Aerospace Blog articles on Chinese/Western aviation
https://china-aerospace.blog/2018/11/25/airbus-a320-boeing-737-comac-c919-where-do-the-suppliers-come-from/
https://china-aerospace.blog/2018/10/17/overview-of-chinese-investments-in-the-western-aviation-industry/
CASIC Liquid Methane Engine
CASIC/Expace released a couple of photos of its Mingfeng liquid methalox engine earlier this week. The engine completed a systems-level hot test, with the test verifying the integrity of the engine system, thrust chamber, combustor, turbo pump, valve, and final assembly. A post from China space industry watcher Andrew Jones mentioned around 10 tons of thrust, however we were not able to independently verify this figure.
Expace is more famous up to this point for having developed the KZ-1A fast-response solid rocket. With the KZ-1A, Expace has built a pretty reliable, fast-response rocket that can be deployed using a transporter erector launcher (TEL). As far as we know, most of Expace's near-medium-term rocket plans still involve solid engines–indeed, KZ-1A and KZ-11 will both likely continue to use solid fuel. It's interesting therefore that Expace is developing this engine, as it may indicate that they have plans to sell to other rocket companies, which would imply CASC/CALT/SAST.
World 5G Convention in Guangzhou
The World 5G Convention opened in Guangzhou last week. During the Convention, the Chief Designer of BeiDou 3rd Generation, Yang Changfeng, noted that all core components of BeiDou-3 were being manufactured domestically. Yang also noted that around 80% of phones in China are now equipped with BeiDou-3 chip sets. Yang linked BeiDou-3 with 5G by noting that many elements of 5G will rely on highly precise location data.
Separately, an excellent source on 5G information that I recently-ish discovered is AnalysisBranch, a sort of 5G blog written by Dave Burnstein. Highly recommend reading "5G: THe Facts and the Future", his free analysis, wherein he mentions correctly that China is by far the world leader in 5G in terms of level of network development and number of subscribers/number of 5G phones sold, but that thus far, there remain no killer apps anyway.
High-level article below on BeiDou
https://asia.nikkei.com/Spotlight/Century-of-Data/In-165-countries-China-s-Beidou-eclipses-American-GPS
Follow DongFang Hour on Twitter @DongFangHour , Youtube or on https://dongfanghour.com
Blaine Curcio has spent the past 10 years at the intersection of China and the space sector. Blaine has spent most of the past decade in China, including Hong Kong, Shenzhen, and Beijing, working as a consultant and analyst covering the space/satcom sector for companies including Euroconsult and Orbital Gateway Consulting. When not talking about China space, Blaine can be found reading about economics/finance, exploring cities, and taking photos.
Jean Deville is a graduate from ISAE, where he studied aerospace engineering and specialized in fluid dynamics. A long-time aerospace enthusiast and China watcher, Jean was previously based in Toulouse and Shenzhen, and is currently working in the aviation industry between Paris and Shanghai. He also writes on a regular basis in the China Aerospace Blog. Hobbies include hiking, astrophotography, plane spotting, as well as a soft spot for Hakka food and (some) Ningxia wines.