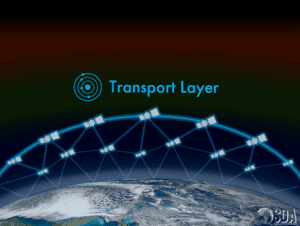 The US Space Development Agency (SDA) announced two contract awards for the first generation of the Transport Layer. These awards represent one of the first major and highly visible steps toward developing the National Defense Space Architecture's inaugural tranche (called Tranche 0).
This set of contract awards will initiate the design, development, and launch of constellations comprised of tens of satellites with optical intersatellite links capable of sending and receiving wideband data to and from other space vehicles and ground stations. The capability demonstrated in the Transport Layer Tranche 0 will provide warfighters with periodic regional access to low-latency data connectivity via space-based extensions of existing tactical data links.
Lockheed Martin Corporation, Littleton, Colorado, is awarded a $187.5 million firm-fixed-price contract for the Space Development Agency Transport Layer Tranche 0 while York Space Systems, Denver, is awarded a $94 million firm-fixed-price contract.