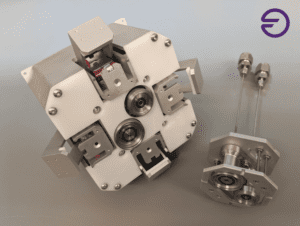 Orbit Fab builds and operates gas stations in space and has proven its in-space fluid transfer system as the first private company to resupply the International Space Station with water. Its Rapidly Attachable Fluid Transfer Interface (RAFTI) has been adopted by multiple spacecraft manufacturers and promises to become the industry's common refueling interface. It was developed in cooperation with 30 companies and organizations, and is intended to be a drop-in replacement for existing satellite fill and drain valves, as it is equivalent in size, mass and cost.
"Our in-orbit fuel tankers will deliver a range of propellants for both chemical and electric systems," said Daniel Faber, CEO of Orbit Fab. "We share the Air Force's goal of developing essential infrastructure for the satellite servicing industry in support of both next-generation space commerce and U.S. leadership in the space domain."
The RAFTI satellite fueling port is a robust solution designed for transferring various fluids in the harsh environment of space, but xenon, which is used extensively in commercial satellites with electric propulsion, poses unique challenges. Xenon is a supercritical fluid, which means that it is used at a temperature and pressure where it has the properties of both a liquid and a gas.
RAFTI is designed to handle supercritical fluids, low-pressure liquids, and high-pressure gasses, and the Air Force contract will advance the development of the company's xenon pumping system. Mr. Faber shared "We are seeing RAFTI being adopted as a common refueling interface for numerous propellants and we're encountering growing demand for Xenon."
"Orbit Fab is making fuel supply ubiquitous in Earth orbit, getting satellites the right fuel in the right location when they need it," said Faber. "Xenon handling systems are not easy, as you're trying to pump a supercritical fluid. Our Air Force customers have identified this as a key technology for satellite servicing and are backing Orbit Fab to deliver the solution."
Satellite servicing is expected to become mainstream within a few years, given the significant benefits of more flexible satellite fleet management and the recent success of Northrop Grumman Space Logistics' first commercial service. Orbit Fab is initially looking to improve the efficiency of current operations, in preparation for an expanding market in the coming decade.
In an independent report by Northern Sky Research, the emerging satellite servicing market is forecast to be valued at more than $4.5 billion in the next eight years. Satellite life extension, de-orbiting and relocation are all fuel-dependent activities that Northern Sky Research expects to comprise 85 percent of that market.