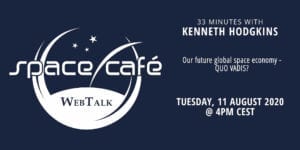 Join SpaceWatch.Global for an interesting and informative Space Café WebTalk featuring Kenneth Hodgkins, President of International Space Enterprise Consultants in Virginia. This event will take place on 11 August 2020 at 4:00 pm CEST.
Kenneth Hodgkins will share his wide-ranging thoughts on working towards a shared vision for our future global space economy, with a focus on international space policy and law. With 40 years of US Government experience, he is advocating for transparency and predictability in space operations, long-term sustainability of space, an international architecture supportive of new commercial space ventures, and collaboration on space exploration beyond low-Earth orbit.
This Space Café WebTalk will be hosted by Torsten Kriening, publisher of SpaceWatch.Global.  The audience will have an opportunity to ask questions in dialogue with Kenneth Hodgkins.
This Space Café WebTalk will be conducted in English. Reserve your place today.