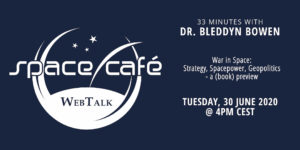 Join SpaceWatch.Global for an interesting and informative Space Café WebTalk featuring Dr. Bleddyn E. Bowen, Lecturer in International Relations, Space Policy/Warfare Expert at University of Leicester. This event will take place on 30 June 2020 at 4:00 pm CEST.
Dr. Bleddyn E. Bowen will talk about his new book War in Space: Strategy, Spacepower, Geopolitics, published by Edinburgh University Press, which has been lauded by Peter L Hays of the Space Policy Institute as 'the largest contribution to spacepower thought in a generation'. With the new US space force being set up and numerous other states setting up dedicated military space units, Dr. Bowen will take issue with several misconceptions about military thinking in outer space. Namely, the belief that outer space is the 'ultimate high ground' of warfare today and in future. In addition to this, Dr. Bowen will also discuss the wider implications of the spread of military space technology for power politics on Earth.
This Space Café WebTalk will be hosted by Torsten Kriening, co-publisher of SpaceWatch.Global and COO of ThorGroup GmbH. The audience will have an opportunity to ask questions in dialogue with Dr. Bowen.
This Space Café WebTalk will be conducted in English. Reserve your place today.