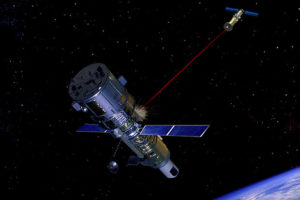 In separate media appearances last week, Russian and Chinese diplomatic and military officials have criticised US – and allied – military space programmes and ambitions.
In an interview with Russian TV news channel Zvezda TV Anatoly Antonov, Russian ambassador to the United States, said that the United States and its NATO allies are seeking to transform space into a zone for warfare.
"We see that the Americans, with the support of their NATO allies, are trying to turn space into a combat zone and battleground for possible clashes between our nations," he said. "We are doing everything possible to prevent this."
Ambassador Antonov also added that Russia is urging the United States to engage in space arms control discussions, but so far these efforts have come to no avail even though Russia has several disarmament proposals for mutual consideration.
"The Russian government has not managed to convince the US to work together to prevent an arms race in space and to refrain from deploying any weapons there, that's a fact," he said. "We have always tried to convince them that less money is needed to prevent an arms race in the first place than to disarm later."
Meanwhile in Beijing, Ren Guoqiang, a spokespeson at Chinese defence ministry, provided a briefing on military space issues for assembled journalists and called upon countries that have created military space organisations and units to refrain from turning space into a combat domain.
"Separate countries have created space military forces, under the pretext of a threat coming from other countries, but in reality in pursuit of military superiority in space," Ren said at a briefing.
"We call upon these countries to adhere to a reasonable and responsible approach, prevent space from becoming a new battleground, and to jointly protect sustainable peace in space," he added.
Ren further warned that continued military space activities by other countries creates a growing risk "…to trigger an arms race in space and in the future negatively affect global strategic stability."
Ren then insisted that China, despite the development of its own counterspace capabilities, consistently seeks to promote the peaceful uses of outer space and strongly opposes any attempt to militarise it.