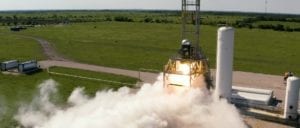 Firefly Aerospace, Inc., a leading provider of economical and dependable launch vehicles, spacecraft, and in-space services,  announced on 6 May 2020 that it has secured AS9100 quality certification as it advances from developmental to production phase ahead of the inaugural flight of its Alpha launch vehicle later this year.
Firefly has passed all quality audit requirements and received its AS9100 certification, the widely adopted and standardized benchmark designed to ensure quality management practices across the aerospace industry. Additionally, Firefly requires all suppliers to be AS9100 certified, which has bolstered its quality assurance program as qualification tests this spring lead to full production capabilities.
"Our AS9100 certification marks a key milestone in the maturation of Firefly as we move from development into the production phase of the Alpha launch vehicle. We are well positioned to take on new contracts and development opportunities," said Dr. Tom Markusic, Firefly CEO. "At Firefly, we blend heritage-space principles used to achieve high reliability with New Space nimbleness and flexibility, allowing us to rapidly develop economical and high-quality products."
Firefly will leverage its AS9100-certified quality assurance program in support of a broad range of spacecraft, including its Alpha launch vehicle, Beta launch vehicle, Genesis lunar lander, and Orbital Transfer Vehicle.
The Alpha launch vehicle will meet the demands of the burgeoning small-satellite market by combining the highest payload performance, 1 metric ton to Low Earth Orbit (LEO) and 630 kilograms to 500 kilometers Sun Synchronous Orbit (SSO), with the lowest cost per kilogram to orbit in its vehicle class. Alpha will provide launch options for both full vehicle and rideshare missions.
"This important AS9100 certification formalizes the strict focus on quality that Firefly has always demanded of itself and its suppliers and partners," noted Paul Garland, Firefly's Director of Quality Assurance, who has nearly 35 years of experience driving quality operations for leading aerospace companies. "Firefly's certified quality processes provide further assurance to our commercial and government customers that we will successfully execute their critical space missions."