On 6 April 2020, US President Donald J. Trump signed an Executive Order (EO) on Encouraging International Support for the Recovery and Use of Space Resources. This order addresses US policy regarding the recovery and use of resources in outer space, including the Moon and other celestial bodies. Over the next few weeks, SpaceWatch.Global will publish a range of perspectives supporting and opposing the EO from experts around the world. Today's two expert perspectives come from Rajiswari Rajagopalan of India (below) and Professor Guoyu Wang of China (see here).
In your opinion, what is the underlying strategic and economic rationale for President Trump's Executive Order?
The possible underlying economic and strategic rationale is to gain the first mover advantage. While the US and other western space players talk about space mining and resource extraction, China has been making progress. Whether the resource is being extracted for bringing it back to Earth or for making the Moon as the base for more ambitious plans to go to Mars, the technological benefits through spinoffs from such activities are significant. The US clearly does not want to let China gain any unilateral advantage.
The Executive Order explicitly rejects the 1979 Moon Agreement. How do you think this will be received by other countries, particularly other major space powers?
Rejection of the 1979 Moon Agreement is not a surprise because very few countries have signed and ratified it. What is surprising in the Executive Order is the explicit rejection of the idea of outer space as a global commons. Even though the suspicion was that this was how the United States (and others) viewed it, openly saying so in the EO is unusual. For that matter, even other spacefaring powers have had similar attitudes towards space because if space is truly a 'global commons', it would prevent other states also from activities such as resource mining in space. And this is possibly the reason why all the major spacefaring powers including the US, Russia, China, Japan and many in Europe have not signed the Moon Treaty. India is among the handful of space powers that is a signatory to it although it has not ratified it.
Similarly, the Executive Order explicitly rejects the view that space is a Global Commons. What, in your opinion, is the policy rationale behind this claim and, again, how do you think this will be received by other countries?
It is correct that this is not the first US administration to hold this view. But equally, other countries also hold such views, though they have not been as explicit about it. Trump's action, however, might be indicator that competition for resources in space is likely to accelerate because others countries are likely to see this as reason to speed up their programs.
In your view, how likely will this Executive Order "encourage international support for the public and private recovery and use of resources in outer space…?"
Trump's approach on setting up a base camp on the Moon has already seen many countries supporting it. I would assume these players including the UAE, Luxembourg and Canada, Australia, would find a way of supporting this idea as well.
Hypothetically assuming that this Executive Order leads to international support, will it make the prospect of commercial space resource extraction closer to reality?
It might lead to international collaboration. But I wrote an Op-Ed where I raised some of the complications of this. For example, how would national courts arbitrate any disputes unless these are subject to national sovereignty? If this is beyond national courts, how can disputes between parties engaging in such activities be resolved? Unless these legal issues are resolved, technical advances cannot by itself ensure resource extraction from space.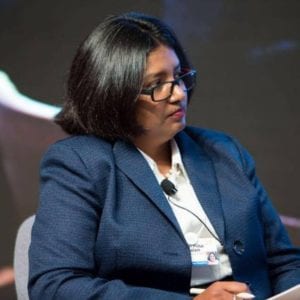 Dr. Rajeswari Pillai Rajagopalan is currently a Distinguished Fellow and Head of the Nuclear & Space Policy Initiative at the Observer Research Foundation, New Delhi. She is also the Technical Advisor to a new UN Group of Governmental Experts (GGE) on Prevention of Arms Race in Outer Space (PAROS) (July 2018-July 2019). As the senior Asia defence writer for The Diplomat, she writes a weekly column on Asian strategic issues. She joined ORF after a five-year stint at the National Security Council Secretariat (2003-2007), where she was an Assistant Director. Prior to joining the NSCS, she was Research Officer at the Institute of Defence Studies and Analyses, New Delhi. She was also a Visiting Professor at the Graduate Institute of International Politics, National Chung Hsing University, Taiwan in 2012.