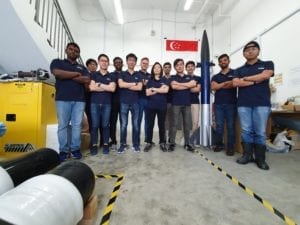 Singapore's Equatorial Space announced on 17 April 2020 that it has signed a letter of intent to work with Scottish launch aggregator Responsive Access, on finding customers for launches of its small satellite launch vehicle.
The company's fully hybrid launch vehicle, Volans, is being designed to carry up to 200kg of payload into near-equatorial Low-Earth Orbit — a rare capability for the many smallsat launch companies active in the burgeoning sector, and heavily regulated by technology export restrictions by their domiciles.
"We have reached a point along our development roadmap when we can confidently discuss launch contracts, as our technology matures and our team grows. Despite the delays in our inaugural prototype mission, the Low Altitude Demonstrator, due to the COVID-19 crisis and resulting travel restrictions, we are pushing forward with our work remotely and hard to deliver on our services." said Simon Gwozdz, CEO and Founder of Equatorial Space.
Responsive Access is a participant in the European Space Agency's Business Incubation Centre and aims to simplify access to space through the use of innovative software and key partner relationships that provide a one-stop-shop for the launch of CubeSats into orbit.
Chief Executive Officer of Responsive Access, Andrew Paliwoda stated, "We're delighted to have formalised our initial discussions with this letter of intent and look forward to strengthening our partnership with Equatorial Space in the coming months by bringing them satellite payload opportunities to fit their timelines."
Equatorial Space is a Singapore-based space tech startup developing innovative technologies for space launch and exploration activities. With its proprietary hybrid propulsion, its technology allows for cheaper, safer and greener alternatives to existing solutions in both orbital launch systems, as well planetary landing missions.
Aiming for the first orbital launch by 2021, ESI has previously been crowned the winner of MBRSC Innovation Cup 2018 in Dubai, a Top 500 Deep Tech Startup by Hello Tomorrow 2018, as well as the Most Promising Startup at the NAMIC Innovation Day 2019.