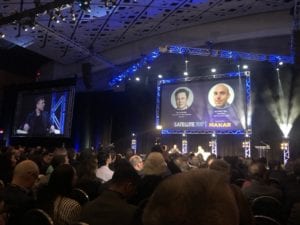 By Blaine Curcio
Let's face it—the 2020s have thus far been weird. Small sample size, various black swan events, cell phones are driving us crazy, these are all true, but it still feels like 2020 is just a little bit weirder than normal, and perhaps more importantly, some of the weirdness is starting to feel like it will not be temporary weirdness. Take the unofficial word of the decade thus far—coronavirus. Originating in Wuhan, Hubei province, just a few hours by high-speed rail from my vantage point in the fragrant harbor, the coronavirus has been ravaging the globe for the entirety of the 2020s thus far, and looks poised to cause very real, longer-term lifestyle changes, with this just being the latest example of an unforeseen side effect of our hyperconnected 21st century world.
This being the case, it should come as no surprise that Satellite 2020, the first major Satellite conference of the new decade, would be a strange one. As an American who has been living in China for most of the past 10 years, but who has also made the trip to Washington, DC for all of the past eight years for Satellite, I had high expectations for the conference, and it surely did not disappoint.
Elon Musk Stole the Show
By the end of the week, it had become rather annoying, but it's impossible to deny that Elon Musk's Monday afternoon keynote session—and perhaps more importantly, but less obviously, SpaceX's recent activities in general—stole the show. Put plainly, during a week where the exhibition hall was perhaps 30% full, where many of the sessions had two panelists out of a planned five (though a select few did still have 100% turnout), and when coronavirus was becoming increasingly menacing with every passing day, Musk's Monday keynote was the only instance where it was a packed house.
Elon's speech left me with several key takeaways, which I have written about more thoroughly here, but in general, there were three main points: 1) Elon Musk is clearly a brilliant engineer; 2) Elon Musk seems to believe that all problems can be solved with engineering. This means that when asked even basic questions about commercial elements of Starlink, Musk gave non-answers. 3) Elon Musk's worldview appears unforgiving and to some extent reckless. When asked a fair, albeit perhaps misdirected question about affordability of university tuition in the United States and opportunities for low-income students to get the skills needed to work at Tesla, Musk basically shrugged it off with a "college is for losers, be very smart instead" reply. Overall, however, Musk's keynote was the main event of the show, there was clearly a reason that the satshow.com website had "ELON MUSK KEYNOTE CONFIRMED" on its landing page. It did not disappoint.
With that being said, the Musk keynote also set the tone for much of the rest of the week. The three CEOs that showed up for the Satellite operator panel (originally meant to be six) were asked what would happen when SpaceX (a launch service provider for some of them) starts to compete with satellite operators with its Starlink constellation (retorts—Eutelsat: they won't compete. SES: O3b mPOWER will be so good by then that it won't matter. Hughes: even if they compete with us, we will still make money selling terminals). The satellite manufacturer panel, which witnessed exemplary attendance at 6/6, also became a Musk-fest when the manufacturers were asked about the impact of constellations on their end customers, the satellite operators. While some manufacturers are clearly better-placed to benefit from LEOs than others (Airbus, for instance, is half owner of OneWeb Satellites, a JV that manufactures satellites for OneWeb, and is designed to serve other constellations as well), most were at a minimum cautious about Starlink/SpaceX, and in some cases bordering on outright dismissive.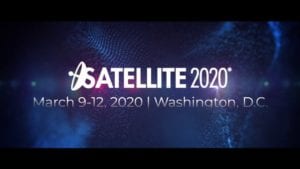 While Musk's keynote was but a small part of the week, it set the tone for the rest of the week. To some extent, on a day (Monday) when the Dow Jones dropped nearly 10%, and during a week when global markets more broadly were going completely haywire, Musk brushed it off on Monday, gave a grand, vague speech about all the amazing plans SpaceX has, and by extension, ensured that the rest of the week would involve most media talking about his grand, vague plans, and thus, putting most incumbents in a position to sound relatively boring, albeit much, much more practical, when they are forced to point out Musk's inconsistencies. Overall, an interesting dynamic, and one that was clearly evident throughout.
All the Drivers of Industry Uncertainty Remain, and Are Getting Bigger
The Satellite industry has, over the past five years, faced challenges related to large increases in available satellite capacity, decreases in pricing of such capacity, and indebtedness of some of the biggest companies selling that capacity. The first months of 2020 have not been kind to most of these factors. Most apparently, the C-band spectrum reallocation in the United States has seemingly led to, for better or worse, a ~$10 billion maximum on incentive payments from the FCC to satellite operators for clearing spectrum. While an astonishing amount of money, it is far from enough to pay down any significant portion of Intelsat's debt, despite Intelsat having the largest claim to spectrum. With this FCC decision having only been finalized in the weeks before Satellite, it was perhaps unsurprising that in light of Coronavirus, Intelsat took the opportunity to cancel its presence at the conference.
Financial challenges aside, satellite operators are being faced with headwinds in high-growth demand verticals. This has been exacerbated by coronavirus, with the pandemic leading to a massive decrease in air travel, not to mention the devastating impact on the cruise industry following several high-profile quarantines onboard huge cruise ships. This has already led to rumblings by cruise operators and in-flight connectivity (IFC) service providers about renegotiating satcom capacity pricing, and has contributed to struggles by satellite operators to regain their footing in increasingly turbulent financial markets. Indeed, in the weeks prior to Satellite 2020, SES's stock price saw a 30% drop, reflecting a cut in the company's dividend combined with markedly lowered 2020 guidance.
Finally, operators are facing increasingly fast technological change on the supply side. Satellite 2020 saw even more mention of the phrase "VHTS", used to designate a "Very" High Throughput Satellite (HTS), with Lockheed Martin subsidiary GEOShare, for instance, highlighting a business plan of a 500 Gbps condosat with four to five customers each taking around 100 Gbps. While this is an amount of capacity that was inconceivable as part of a condosat as recently as five years ago, it is now a plausible alternative to otherwise trying to compete with ViaSat or Hughes and their multi-hundred Gbps satellites, SES and its GEO/MEO-HTS system that exceeds a couple hundred Gbps already, or a plethora of other options including the ever-looming LEO-HTS constellations. Being a plausible alternative, however, is still a far cry from being an easy business case to justify, and up to now it has proven relatively difficult to significantly grow the revenue pie as a satellite operator when selling large amounts of capacity, with customers usually aiming for significant bulk discounts, especially if the customer is then re-selling the capacity as a retailer.
The Industry Continues to Get Younger and More Dynamic
In spite of the sometimes doom and gloom around the satellite operator business model, and the occasional mudslinging that inevitably follows any sufficiently long Elon Musk speech (five minutes being sufficient), there was some optimism to be had from Satellite 2020. Namely, the industry continues to see new companies, new faces, and new business models.
A couple of fun examples—having made a relatively late decision to attend the conference, I booked an Airbnb within walking distance of the convention center, in a three-storey house with a split-level entrance, whereby one apartment was downstairs, and one apartment was upstairs. When arriving to check in to my downstairs apartment, I was greeted by none other than the team from Momentus, an exciting startup offering last-mile services from SpaceX's rideshare flights, walking out from the upstairs apartment. As it turns out, this very cool New Space startup was also in town for the show, and was living just upstairs from me. Later, I was lucky enough to meet several entrepreneurs that were able to make me feel like an industry veteran at the ripe old age of 31. Add in several panels related to interesting niche topics like smallsats in Latin America, and it was undeniable that the Satellite conference in 2020 may have been smaller than in years' past, but was also younger and more dynamic.
What to Look Forward to Next Year?
Satellite 2020 was surely a memorable way to bring in the decade. Looking forward to next year and beyond, it seems inevitable that by Satellite 2021, Starlink and OneWeb will each have hundreds of satellites in orbit, with Starlink maybe exceeding 1,000 by that time. Meanwhile, new HTS payloads will enter the market, new terminals will put on their finishing touches and enter the market, and on the terrestrial side, many cities may be wired for 5G.
This all implies continued rapid changes in the industry, with developments such as mergers and acquisitions (M&A – another oft-mentioned topic during the week), and other consolidation, strategic investments, and even the B-word (bankruptcy) being thrown around throughout the week. The next year is, at best, uncertain. Normally, I would at this point say that the only certainty is that we will all be back in Washington, DC next year for Satellite. This year, though, on the Thursday of the shortened conference week, I met with an industry colleague to share a car to the airport. She said, among other things, that this might have been the last conference of this size in our industry, forever. As we shared the car from the capital of my home country, en route to the airport so I could get the hell back to my adopted home country in the face of this epidemic, the thought couldn't help but linger for awhile. Maybe this was indeed the last Satellite conference of that size and scale ever held in the physical world. I am thrilled to have been able to attend.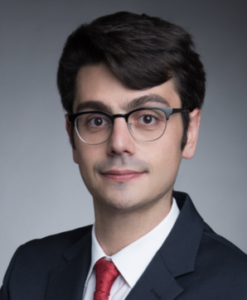 Blaine Curcio is the founder and owner of Orbital Gateway Consulting, a boutique market research and consulting firm focusing on emerging commercial opportunities in space and satellite industry, as well as the Chinese space/satcom market. Blaine is also a senior affiliate consultant for Euroconsult, and is based in Hong Kong. Blaine can be contacted at: [email protected]