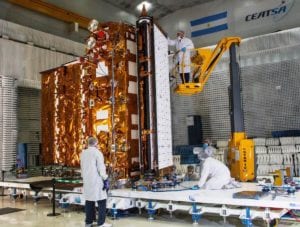 Elon Musk's claim that the governmental and societal response to the ongoing Coronavirus pandemic is an overreaction and "dumb" has caught up with him (again) as it was revealed that the 30 March 2020 scheduled launch of Argentina's SAOCOM-1B remote sensing satellite by a SpaceX Falcon 9 satellite launch vehicle from Cape Canaveral Air Force Station (AFS) in Florida, United States, has been postponed.
The US Air Force's 45th Space Wing, headquartered at Cape Canaveral AFS, announced the postponement on 24 March 2020 and cited travel restrictions imposed because of the pandemic. These travel restrictions, issued by the US and Argentinian governments, mean that Argentinian officials and engineers are unable to travel to Florida for the now indefinite launch postponement.
Otherwise, according to the 45th Space Wing, all other planned launches from Cape Canaveral AFS will proceed as scheduled – at least for now.
Argentina's Satélite Argentino de Observación Con Microondas (SAOCOM) comprises two L-band synthetic aperture radar (SAR) Earth observation satellites – SAOCOM-1A (launched by SpaceX in October 2018) and SAOCOM-1B.
Both satellites were built by Argentinian satellite manufacturer INVestigacion APlicada (INVAP S.E.) for the Argentinian space agency, the Comisión Nacional de Actividades Espaciales (CONAE – National Space Activities Commission in English), and were originally scheduled to be launched in 2012 (SAOCOM-1A) and 2013 (SAOCOM-1B).
The SAOCOM satellites' L-band SAR instrument features standard, high resolution, and global coverage operational modes with resolution ranging from seven to 100 metres, and a swath within 50  to 400 kilometres. The instruments feature a dedicated high-capacity Solid State Recorder (50 to 100 Gbits) for image storage, and a high bit rate downlink system of two X-band channels at 150 Mbits/s each.
The SAOCOM SAR satellites are designed to operate in conjunction with Italy's COSMO-SkyMed SAR Earth observation satellite constellation, as part of a cooperative agreement between CONAE and the Italian space agency, the Agenzia Spaziale Italiana (ASI). By operating in conjunction with COSMO-SkyMed, the SAOCOM satellites will provide Argentina and Italy with a twice daily revisit rate of targets of interest in both L- and X-bands.
Argentina hosts a COSMO-SkyMed tracking and data station located at Cordoba.