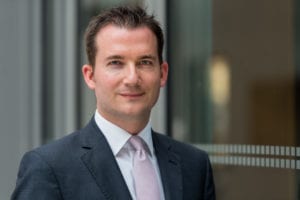 Germany is taking huge steps to foster a national New Space industry. The Bundesverband der Deutschen Industrie (BDI – Federation of German Industries) and its Head of Security and Raw Materials, Matthias Wachter, are at the forefront of that process. SpaceWatch.Global's Torsten Kriening talked with Matthias Wachter about Germany's role in the global space sector, micro launchers, and spaceports.  
Would you please tell us about the BDI and its connection to space?
The BDI is the umbrella organization of German Industries, representing roughly 100,000 companies with eight million employees. When we talk about industry, we mean manufacturing. Our membership includes many large, well known German corporations, but the most of our companies, roughly 99 percent are small and medium-sized, mostly family-owned companies, the so called Mittelstand.
BDI is connected to the space industry because manufacturers for their future technologies will increasingly need space applications. In particular, this is the case, when we talk about autonomous driving: satellites provide the exact data for localization. Traditional industry is becoming more and more linked to space and new space.
Last year at the ESA Council at Ministerial Level in Seville (Space19+), Germany made the largest financial commitment: 3.3 billion Euros. What does it mean for Germany, and for the German space industry in particular? Following this increased financial commitment, what role do you think Germany will play in space politics and space activities in Europe?
We welcome the substantial increase of the overall budget and are pleased that Germany, for the first time in history, is the largest contributor. This is a very strong and positive signal by the German government. With its commitment Germany will support the European space ecosystem and move the entire European space sector forward.
As a result, Germany will have greater influence on space policy and programs in general – impacting how programs are developed and what they focus on. Many German companies will be able to participate in programmes helping to promote the German space ecosystem. This process will also increase the perception of space as a key issue not only for economics but all parts of society, especially in Germany. We highly commend this process.
In comparison to other activities, we see French and German cooperation in space, especially for lunar activities. What is BDI's position on this? Does it have a chance for success outside a European context?
Definitely. Germany doesn't necessarily need to cooperate with partners outside the European framework – quite the contrary: cooperation in space can and should be inside of it. It is favorable that France and Germany as the two biggest contributors assume their leadership-role in defining common and joint projects. Together they can take the lead to the Moon.
Shouldn't this be in a European context?
The process should take place within the European framework.
Let's talk about the new activities covered widely in the press right now: micro-launchers and spaceports. Since you are one of the greatest advocates for German spaceports, let me ask you why we need a spaceport in Germany?
There are thousands of reasons for why we need a spaceport in Germany. Thanks to the current trend of miniaturization in the manufacturing industry, satellites and many other products are getting smaller. Simultaneously, we are witnessing the development of very big satellite constellations and an increased demand to bring commercial satellites into orbit for these constellations. We must enable companies to respond rapidly to problems, e.g. if a satellite stops working. Also, in the transportation area we face more and more diversity: a mix of big, small and medium-sized rockets. It would be good for Germany to have its own small spaceport for small rockets and micro launchers. That would enable small satellites to be deployed into space.
We are still facing challenges. If you build a satellite in Germany, it only can be launched via French Guiana, Cape Canaveral, or India. India is getting more important for commercial use. That comes with high costs for transportation and logistics and high regulatory burdens. The German government classifies satellites as "dual use" products that require the government itself to track every space export to a launch pad. This is a highly bureaucratic act for companies, since tracking sometimes takes six to nine months. This is what drives our demand for rapid deployment, not only for companies but also for the government, science institutions, universities, and obviously also for the military. A German spaceport can address these issues and would strengthen the domestic space manufacturing base.
I take your point about access to space and manufacturing. But we don't have the export control delays in a unified Europe, so why not use existing spaceports elsewhere in Europe? Why does Germany need a spaceport on German soil?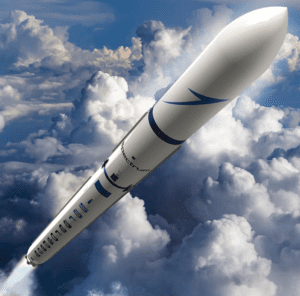 We don't follow a German-only or German-centric approach: a spaceport on German soil is supposed to be part of the broader European and ESA strategy. It contributes to a broader European rocket mix, diversifying European space launch capabilities. It is also suitable for the development of a micro launcher, that we highly support, and in line with a micro-launcher-program by ESA, aiming to increase the start of rockets from the European side.
We are convinced that Germany is well suited for launching small rockets. Surveys and analyses support our notion to launch them from the shore of the North Sea—or even better, offshore. From northeast Germany satellites could be directly launched into polar orbits without flying over landmasses or other countries. From our point of view this is very reasonable. Furthermore, it would not be competing with Ariane or make Ariane rockets obsolete – quite the contrary: Adding this capability would expand and deepen the European rocket base. As of now many launch contracts still go to India or other countries, since in Europe there is no full mix of rockets, respectively micro launchers or the capability to start them from European soil. What we have is Ariane 5 and soon Ariane 6.
Where do things stand on the discussions for a land-based German spaceport?
Some discussions have tried to define the issue as a technical one, but from my perspective it is highly political and technically feasible. The German government must be clear about the question, whether it wants a German micro spaceport or not. If so, it must set up a wise framework to make it happen. Yet, there hasn't been made any decisions about the best location for a spaceport. The issue is still open to discussion and has a lot of revenue potential for German companies.
Thinking forward for a moment, let's assume we find a solution and can have a spaceport in Germany. Where will Germany be in terms of space law and regulations at that stage?
We support the development of national space law in Germany, and not only with a view to spaceports. Effectively, Germany has already signed up for it 40 years ago, when the government signed the Outer Space Treaty. So far, we haven't ratified any space law on the national level. As a result of the discussion at that stage, I assume, Germany will have national space law that should be used to address the possibility of a small German spaceport. Since talks are in progress now, the legislative process should take these considerations into account.
Professor Hobe from the University of Cologne made recommendations about how a spaceport or spaceport-framework could be included. We also see an increased demand from companies. And maybe most importantly, the Federal Minister for Economics, Peter Altmaier, is open to the idea. Overall, the German Aerospace Center (DLR) has a mandate to analyze how these issues could be included in space law.
Everything is on the table; we just need to do it and be more ambitious and optimistic in pleading for opportunities and visibility. Especially low visibility is one of the main weaknesses in the German space sector: it is not easy to see to what extent German companies are already contributing to the industry internationally. In fact, we are well placed: When it comes to the International Space Station, German industry produces half of the new American Orion spaceship. A small German spaceport would change that: Young people would be motivated to study new technologies and envision what's possible.
I know this topic is close to your heart. How do we increase the presence of New Space activities in Germany?
It's happening right now. We are already able to present a thriving new space ecosystem with great companies. Many young entrepreneurs with excellent ideas are building up businesses to produce satellites or rockets, using data generated by satellites. The development has been strong, though financing is still a main challenge at the start and down the line. Often German investors still have a very conservative and hesitant attitude towards new ideas and start-ups. We need more venture capital, people, corporations and banks willing to invest their time and money for development in this sector to help businesses grow and become successful. We must achieve economies of scale. It's a question of mindset.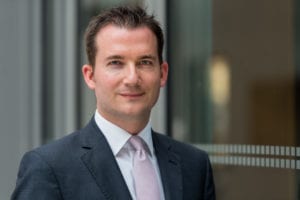 Matthias Wachter is the Head of the Department for Security, Raw Materials, and Space at the Federation of German Industries (BDI). He studied Business Administration in Coburg, Paris and New York. Matthias earned Bachelor of Science degrees from Coburg University and INSEEC Paris. In 2007, he graduated as a Fulbright Scholar from Rutgers University, New Jersey, Unites States, in Global Political Economy (M.Sc.). He joined the Executive Management Programme at the German media company Axel Springer after returning from the US. After working for Springer, he became Personal Adviser to the CEO at BDI in 2008. In 2010, he became Head of the Department for Strategic Planning, Policy and Coordination at the BDI. Since 2012, he has been the Head of the Department for Security, Raw Materials, and Space. Matthias is a trained infantry officer and served with the German Armed Forces in Bosnia and Herzegovina in 2006. He currently is a Lieutenant Colonel in the German Army Reserves.
SpaceWatch.Global thanks Matthias Wachter of BDI for the interview.