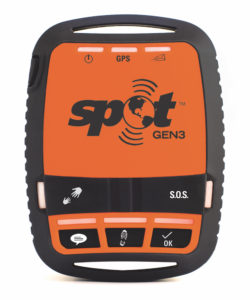 Globalstar Europe Satellite Services Ltd, a wholly owned subsidiary of Globalstar Inc. and a leader in satellite messaging and emergency notification technologies, has introduced its new mapping software, SPOT Mapping. This new platform gives adventurers and lone workers enhanced location insights, including granular detail about terrain to aid navigation, and, for the first time, weather forecast overlays.
SPOT Mapping makes it easier than ever for SPOT owners to plan and track their trips, with dynamic intelligence about local conditions, and allows them to share their journey details with friends, family, and colleagues. Users can now view maps with satellite, road, and terrain options with far more detail than previously available. The new mapping platform is viewable on any mobile device, and users can either view maps in Live mode for real-time tracking or in History mode to review previous trips.
"With a choice of devices to suit different types of adventurer and lone workers, SPOT devices are being used by individuals and groups exploring remote regions of Europe from the Alps to the Nordic tundra," said Karim Kabir, CEO of VarioTek, a German SPOT reseller. "With this new mapping software, users now have the information at their fingertips to plan routes accurately and even check the local weather."
"Having listened carefully to SPOT users about their mapping needs, we have worked diligently to bring them an enhanced mapping experience," said Dave Kagan, CEO of Globalstar. "SPOT has been used to trigger more than 7,000 rescues worldwide, and now, with our new mapping platform, it will keep outdoor adventurers more informed than ever, resulting in safer journeys into the wild, and more peace of mind for friends, family and colleagues."
The SPOT family of satellite messengers is powered by the Globalstar Satellite Network, which has a worldwide fleet of spacecraft in Low Earth Orbit (LEO).
The announcement was made on 19 February 2020.