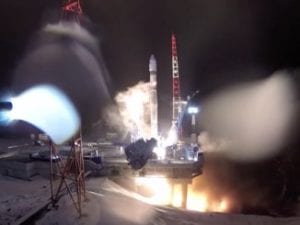 One of the more notable space stories of the past few weeks is that of two Russian satellites allegedly 'stalking' a KH-11 reconnaissance satellite operated by the US National Reconnaissance Office (NRO). Given heightened geopolitical tensions between great powers and the increasing occurrence of Rendezvous and Proximity Operations (RPO) in Earth orbit, SpaceWatch.Global will publish expert perspectives on this unfolding story over the coming days and weeks.
Our fourth perspective comes from Alexandra Stickings, a military space expert with the Royal United Services Institute (RUSI) in London, United Kingdom. 
1) How would you characterize the alleged manoeuvres of the Russian satellites?
There is nothing new about such satellite behaviour. Both Russia and the US have previously carried out proximity operations, the benefits of which include the potential to spy on an adversary's satellites, and such technology is proliferating to more actors. These operations are part of broader activities in orbit as the major space players, including China, look to capabilities that can disrupt and deny access to space, particularly in ways that do not involve kinetic strikes and the subsequent debris creation. 
2) General Jay Raymond, Commander of the U.S. Space Force, has characterised the manoeuvres of the Russian satellites as "threatening" and "destabilizing." Is this a fair characterization?
No. It often appears that activities by the Russians and Chinese in space are characterised to fit a particular narrative that US space dominance is being threatened and that space is now becoming 'weaponised'. As well as providing weight to the argument that led to the creation of the US Space Force and Space Command, this narrative does not take into account historical activities by a range of actors and the arguments that space has already been weaponised. There is also the rather grey area of what constitutes 'threatening' behaviour in space and, if it is deemed that a line has been crossed, what a response might look like. One might even ask the question as to whether the reactions to such instances could be more destabilising than the activities themselves.
3) What can/should be done to mitigate/stop these kinds of incidences? How likely are we to see anything done at all?
I don't believe that these instances can be stopped completely, particularly when they are used for military purposes. We are also seeing commercial entities developing rendezvous and proximity capabilities for satellite servicing and debris removal, so there is a potential for
more uncertainty, rather than less. There have been moves towards creating agreed norms for responsible behaviour in space, as well as a code of conduct, but political challenges, as well as the need to include civilian and commercial actors, make this difficult.
Alexandra Stickings is Research Fellow for Space Policy and Security in the Military Sciences team at the Royal United Services Institute (RUSI). Her research covers military space programmes, space warfare, counterspace capabilities, space situational awareness, arms control and the intersection of space and missile defence. She has written articles and research papers for a variety of publications, is a frequent speaker at international conferences and regularly provides expert commentary to the media. Alexandra holds an MSc in International Security and Global Governance from Birkbeck College, University of London, a BA (Hons) in International Studies form the Open University, and a BSc (Hons) in Physics with Astronomy from the University of Nottingham.