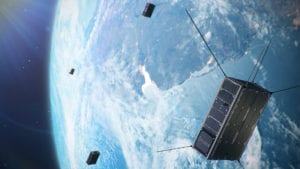 Kleos Space S.A, a space-powered Radio Frequency Reconnaissance data-as-a-service (DaaS) company, has entered into a channel partner and data integrator agreement with UK geospatial intelligence and analysis company Geollect.
Geollect will procure and integrate data from Kleos' satellites as it becomes a global leader in dark vessel tracking capability whereas Kleos data will be used by Geollect to generate analytical intelligence output and may be resold to third parties.
The agreement is the result of Kleos' and Kleos' UK subsidiary efforts to assist the UK industry and government to access commercial data from satellites to provide information as needed.
Kleos' Scouting Mission satellites detect and geolocate maritime radio frequency transmissions, and when compared with other data sources such as Automatic Identification System (AIS) the data can be used to highlight 'dark' maritime activity.
Geollect provides near real-time geospatial maritime intelligence collection and analytics for the defence, security, global cruise line and insurance sectors that is used by leading maritime organisations.
Comprehensive real-time vessel tracking is central to its extensive contracts with the UK's Royal Navy and within the global protection and indemnity maritime insurance sector, using its intelligence capabilities to support global maritime operations.
Kleos Space Chairman, Air Commodore (rtd.) Peter Round, RAF, said, "This is a great example of implementation of a key business strategy for Kleos. We can provide defence, security and commercial users with access to cost-effective geolocation intelligence data to provide a value added tipping and cueing capability to their current capability.
Kleos' independent maritime intelligence data complements and enhances Geollect's existing datasets. Using our satellites flown in clusters of four, our technology geolocates all RF transmissions without relying on them actively broadcasting their locations.
Thus, Kleos can offer unprecedented situational awareness at sea with optimised revisit rates over key regions of maritime interest for the UK, including the Straits of Hormuz, the South China Sea and the coast of Africa."
This agreement with an international leader in geospatial intelligence supports Kleos' long-term strategy within the UK defence and security markets, where its commercial satellites improve and verify intelligence, surveillance and reconnaissance (ISR) data to support maritime operations.
Geollect co-founder and Chief Operating Officer Richard Gwilliam, a highly experienced ex-Royal Navy intelligence officer, said, "Our maritime defence and security customers, such as the Royal Navy, are increasingly requesting tracking of dark activity, facilitating improved detection and interdiction of illegal activity such as piracy and drug smuggling. Kleos' data will improve our location of dark vessels, enabling us to identify anomalous activity and corroborate reports from disparate sources in near real- time. Our geospatial intelligence data and analysis allows our customers to understand regional threats as they occur and use that information to mitigate risks."
Kleos' Scouting Mission satellites are awaiting launch from Chennai, India, and after commissioning will commence data delivery.