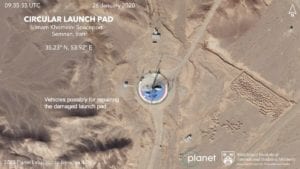 Iran is believed to be preparing to launch two satellites from its Imam Khomeini Satellite Launch Centre over the coming days, according to numerous reports in Iranian and international news media.
Mohammad Javad Azari Jahromi, Iran's Minister of Communication and Information Technology, announced the imminent launch of the Zafar-1 and Zafar-2 Earth observation satellites in a series of Tweets last week, although many press reports are stating that the Zafar satellites are communications satellites.
Zafar-1 and -2 are microsatellites designed to take high-resolution optical imagery of locations around the world. A ground resolution of 22.5 metres has been reported, although some sources are claiming that the ground resolution is more like 80 metres.
"Preparing map of lands, basic map, civil development map, agricultural fields map, map on changes in lands natural environment and jungles, monitoring developments in seasonal and perpetual lakes, identifying damaged areas after the crisis and upgrading structural maps are among missions of the satellite," the Iranian news agency IRNA has stated.
Confusion in the international media regarding the function of the Zafar-1 and -2 Earth observation satellites likely stems from the fact that they will also feature a basic communications payload capable of broadcasting single messages between two users, or sending a single message up to a total of 256 users.
The satellite is reportedly equipped with colour cameras for surveying oil reserves, mines, jungles and natural disasters. As currently understood, the two satellites will likely be launched by a Simorgh satellite launch vehicle from the Imam Khomeini Satellite Launch Centre in central Iran in February 2020, and will be placed in a low-Earth orbit (LEO) at an altitude of 530 kilometres.
Mohammad Javad Azari Jahromi also announced the opening of a national competition to name Iran's first very high-resolution Earth observation satellite, with a planned ground resolution of one metre, that is to be built indigenously by scientists and engineers at the Amir-Kabir University. It has been reported by SpaceWatch.Global for some time now that Iran is in the market for a very high-resolution Earth observation satellite, either developed indigenously or acquired from China or Russia.
The announcement of the imminent launch of the Zafar-1 and -2 satellites is overshadowed by the fact that all of Iran's attempts at launching satellites over the past several years have failed. The launch announcement also comes weeks after the killing of Major General Qassem Suleimani, the head of the Islamic Revolutionary Guard Corps (IRGC) Quds Force, by a U.S. air strike in Iraq, sparking one of the worst geopolitical crises in the Middle East in years.