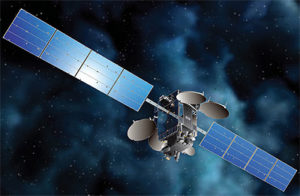 AzerCosmos, the Azerbaijani satellite operator, reported revenues of U.S.$40.6 million for the period of January to November 2019, a 69 percent increase over the same period in 2018, when the company generated revenues of just U.S.$25.6 million.
According to AzerCosmos, 89 percent of its 2019 revenues were generated abroad in over 26 countries. The bulk of the foreign revenues were generated in France (U.S.$11 million), the United States (U.S.$9 million), Malaysia (U.S.$8.4 million), the United Kingdom (U.S.$7.9 million), and the United Arab Emirates (U.S.$1.3 million), according to Azerbaijan's Center for Analysis of Economic Reforms and Communications.
Azercosmos is the premier satellite operator in the South Caucasus. Azerspace-1, the telecommunication satellite operated by Azercosmos, provides highly-reliable broadband and broadcast solutions to its customers in Europe, Africa, Middle East, the Caucasus, and Central Asia. The satellite was launched in February 2013 and is equipped with 24 C-band transponders and 12 Ku-band transponders and is located at 46° East longitude.  In December 2014, Azercosmos took over the rights to operate and commercialize Azersky, a high resolution (1.5m imagery products) optical Earth observation satellite and entered into the commercial business of Earth observation services, including Geo-Information services. The strategic development plans of the company included enhancing the coverage area and spectrum of satellite services. For this purpose, in 2018, Azercosmos launched its second telecommunications satellite Azerspace-2 in a geostationary orbit 45° East longitude.
In other Azerbaijani space news, the head of the Russian state space corporation RosCosmos, Dmitry Rogozin, will visit Baku at the invitation of the National Aerospace Agency of the Ministry of Defence Industry in late January 2020 for space cooperation talks. These space cooperation talks, Rogozin said, may also encompass Kazakhstan.
"The development of cooperation in the space field with Azerbaijan may be more active. In the case of Azerbaijan's ambitions in developing this field coincide with the ambitions of Kazakhstan. Kazakhstan has its own cosmodrome. Azerbaijan also has a number of possibilities from the point of view of participation in mechanical engineering corporations. There are very talented scientists in the space field from Azerbaijan. Many Azerbaijani scientists work in the space industry of Russia. There are many works that we can do with Azerbaijan in the cooperation of the space field. I want to discuss this issue with the President of the Republic of Azerbaijan Ilham Aliyev very much," said Rogozin.