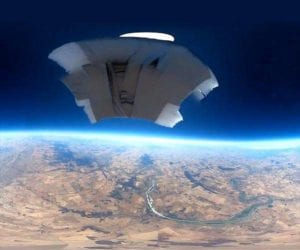 Two University of South Australia (UniSA) startups travelled to Petwood (South-East of Adelaide) on Saturday, 7 December 2019, to launch a one-storey-high aerial monitoring balloon, in a testing phase that will lead to a rocket launch in 2020.
Space robotics startup Lux and satellite developer ResearchSat are both participating in Australia's first space incubator program at the University of South Australia's Innovation and Collaboration Centre (ICC).
The two space startups are taking part in the ICC's Venture Catalyst Space program, helping to growing Australia's space sector.
Lux is building autonomous atmospheric satellites equipped with cameras that capture and transmit high-resolution aerial images in real-time.
ResearchSat is developing small satellite payloads which can take microbiological experiments to space.
For the test launch, the team sent up a helium balloon to an altitude of 30km – three times higher than a commercial aircraft – for two hours, tracked it using GPS, then burst it – safely capturing its payload attached to a parachute.
Co-Founder of Lux, Katrina Albert, says the successful test launch gave them critical data to refine future launches.
"We are working with miners and engineers on what valuable data we can provide them with. We are already planning pilots with three local mines next year to launch space balloons on their sites," Albert says.
Aerospace Engineer and Chief Technology Officer of ResearchSat, Jibin Jeffrey Dhanaraj, says their device needed an external "shell" to carry out testing.
"Our product is a subsystem of a CubeSat so we needed an external 'bus' to test the functionality of the prototype and collect data. Lux's space balloons were the perfect vehicle to make this happen. We now have enough data on our current technology ready for our major launch via rockets next year," Jeffrey says.
Albert says being part of the Venture Catalyst Space program was very valuable to the company's progress.
"In space, there are lots of technologies that feed into each other. For CubeSats to go into space, you need a launch platform, and our space balloons turned out to be the ideal vehicle.
The University community has been a great help with connections and access to infrastructure for research purposes as well as expert mentors and advice.
"This has made it easier for aerospace startups to do product demonstrations faster, which is critical at this stage of our organisation."
Both companies recently received awards at the GRAVITY Challenge event, with their innovative technologies helping to design and build solutions for real industry, social and environmental problems.
ICC Associate Director Jasmine Vreugdenburg, says the ICC is the place for startups to receive the tools and support they need to progress towards commercialisation.
"The ICC is a place to grow and receive support and tools to build a successful company. We curate a community of likeminded people whose shared experience of success and failures benefits all involved.
"It's great to see the startups working together and supporting each other to test their technologies and implement learnings together," she says.