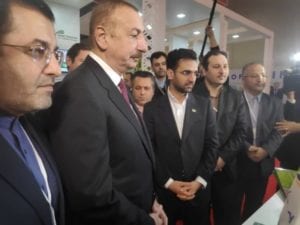 The Iranian government has expressed its wish to enter into a cooperative arrangement with its neighbour Azerbaijan for satellite research and development as well as satellite manufacturing, according to Azerbaijani and Iranian press reports.
Speaking on the sidelines of the BakuTel-19 exhibition on telecommunications, innovation, and high technologies held in Baku, Azerbaijan, on 3-6 December 2019, Iran's minister for Information and Communications Technology, Mohammad-Javad Azari Jahromi, said that, "Iran eyes to cooperate with Azerbaijan in the field of satellite research and satellite production," and added that, "The preliminary agreements have been reached in this sphere."
"The discussions related to satellite are intensively held as part of high-level cooperation," Jahromi said.
Jahromi also met with Rashad Nabiyev, the head of AzerCosmos, Azerbaijan's state space corporation. Ahead of the meeting, Jahromi said that, "The space science and manufacturing satellites have various purposes that are not necessarily economic."
"The bulk of the future economy belongs to the space sector. So we must determine our position in this market and decide whether we want to be consumers or producers," he added.
Jahromi also said that Iran has put together a 20-year plan to ensure that it is not just a consumer of foreign space capabilities and applications, and mentioned that the country is keen to develop an operational Earth observation satellite using indigenous talent and technologies.
"That is why the development of space industry is a strategic necessity for our country," Jahromi said.
Referring to cooperation with AzerCosmos, Jahromi told reporters that, "The Iranian Space Agency is prepared to prepare the ground for mutual cooperation with the Republic of Azerbaijan's Space Agency."
AzerCosmos' Nabiyev said that Azerbaijan welcomes space cooperation with Iran, and said that he is prepared to host the head of the Iranian space agency in Baku to begin negotiations on areas of mutual interest.
Aside from talks with AzerCosmos, Iran's Jahromi also met with the President of Azerbaijan, Ilham Aliyev, as he visited the stand of the Iranian Space Research Centre at the BakuTel-19 exhibition.
Jahromi briefed President Aliyev on the Iranian space programme and introduced him to executives from 14 Iranian startups exhibiting at BakuTel-19.