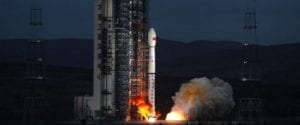 Sudan's first satellite, the Sudan Remote Sensing Satellite (SRSS)-1, was successfully launched in the morning on 3 November 2019 by a Chinese Long March 4B satellite launch vehicle from the Taiyuan Satellite Launch Centre in China's northern Shanxi Province, according to reporting in Space in Africa.
The Long March 4B launch included the Gaofen-7, Xiaoxiang-1 08, and Whampoa-1 satellites, all owned and operated by Chinese entities.
The SRSS-1 was developed and built by Chinese satellite manufacturer Shenzhen Aerospace Oriental Red Sea Satellite Co. on behalf of the Sudanese government, and will be used for both civil and national security Earth observation missions.
According to a Sudanese government document, SRSS-1 will, "generate a comprehensive, cost effective and reliable data base on the topographic mapping, natural resources for developmental planning, exploration of natural resources, environmental monitoring, agricultural monitoring and yield estimation and beside public security (intelligence) and defense applications."
SRSS-1 is also being heralded as a springboard for the establishment and development of an indigenous Sudanese space and satellite industry that will be located in Khartoum North. Space in Africa also reports that the SRSS-1 build and launch was financed by the China ExIm Bank, though no cost amount has been reported.
In a separate arrangement, SudaSat – a subsidiary of the SudaTel Telecom Group – leases four Ka-band transponders on the Arabsat-6A communications satellite for the provision of broadband services across Sudan.
Launched in April 2019 by SpaceX, Arabsat-6A was built by U.S. satellite manufacturer Lockheed Martin.
The launch of SRSS-1 is the latest development in space activities in the Horn of Africa and along the River Nile. Sudan joins Egypt and Ethiopia in establishing national space programmes as well as developing and building Earth observation and communication satellites both indigenously and by countries such as China, France, and Russia.
The China Academy of Space Technology (CAST) is building Ethiopia's ETRSS-1 remote sensing satellite, which is due to be launched from China in December 2019. Ethiopia also leases transponders on the SES NSS-12 communications satellite, creating the EthioSat platform, and is building a satellite manufacturing, assembly, integration, and testing (MAIT) facility in Addis Ababa with funding and assistance from French space company ArianeGroup and the European Union's (EU) European Investment Bank.
For its part, Egypt operates the EgyptSat-A Earth observation satellite that was built by the Egyptian National Authority for Remote Sensing and Space Sciences (NARSSS) with assistance from Russian satellite manufacturer RKK Energiya and Belarusian companies OAO Peleng and NIRUP Geoinformatsionnye Sistemy, who built the imaging payload. EgyptSat-A was launched by Russia in February 2019. In November 2019 Egypt will have its TIBA-1 military communications satellite launched by Arianespace from French Guiana. TIBA-1 was built by a consortium of French satellite companies Airbus Defence and Space (satellite bus) and Thales Alenia Space (payload).