On 27 and 28 November 2019, State Secretary Martina Hirayama attended the European Space Agency's ESA Ministerial Council meeting in Seville ("Space 19+"). At this meeting, which brought together the ministers in charge of space affairs from the 22 ESA Member States, the Council conferred on ongoing programmes, new initiatives, and agreed on the Agency's budget for the next three years.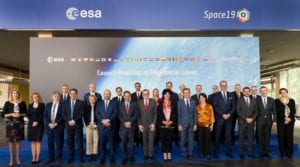 The decisions reached by the Member States at the end of the meeting negotiations illustrate their support for a political, institutional, programmatic and technological strengthening of ESA in order to maintain its position as the prime European player in space. In total, around 14.4 billion euros have been invested in the future of European space. Member States also support the development of optional programmes structured around four main pillars.
Switzerland has further reinforced its involvement in the space domain: contributing to securing Europe's access to space (Ariane and Vega), participating in an exceptional global environmental observation programme; playing a leading role in the reduction of space debris; making a key contribution to a reusable 'mini-shuttle'; and participating in 'Artemis', the USA's human lunar exploration programme.
Science and exploration
Member States renewed their commitment to strengthening ESA's Science Programme. This pioneering programme led to the creation and completion of several successful missions, and also gives Swiss scientists the opportunity to work on the most advanced projects worldwide. CHEOPS is exactly such a mission, led jointly by the University of Bern and ESA, with contributions from the University of Geneva. The satellite, which will characterise exoplanets, is scheduled for launch on 17 December 2019. Switzerland's investments in ESA have made it possible for Swiss players in the space sector to participate in international projects, including Switzerland's close working relationship with NASA on the 'Artemis' programme as well as future exploration programmes to the Moon and Mars.
Space safety and security
Member States have agreed to consolidate all activities in conjunction with space safety and security in a single envelope programme. Switzerland is taking the lead in one of the components of the framework programme, namely the ADRIOS mission. The purpose of this mission, launched by ESA, is the active removal of space debris. The leader of the industrial consortium selected by ESA is a Swiss company. Switzerland is continuing its activities in the field of orbital observations with optical and laser equipment and is making a significant contribution to the international effort in cataloguing and characterising space debris. Switzerland is also supporting the development of a mission to monitor space weather, which can have a direct impact on the availability of satellite services (communication, navigation) and ground facilities. Switzerland is also involved in a mission to protect the Earth from asteroid impacts (HERA) and the development of a system for automating avoidance of collision between satellites (CREAM).
Applications
The concrete uses of space infrastructures and data illustrate how indispensable these are to society. Europe's space sector has once again emphasised this by choosing to pursue scientific Earth observation missions. Participation in the development of new missions related to climate change and weather (including anthropogenic CO2 monitoring), Africa, the Arctic and Polar Regions as well as resources security, advance our knowledge and understanding of the Earth and its processes.
ESA has launched new initiatives in the field of optical communication and 5G, including projects for future infrastructures, such as quantum communication networks (SAGA). These projects offer a promising niche for Swiss companies and institutes with their unique and proven expertise. Switzerland excels in positioning, navigation and timing, affording strategic and commercial potential: mastering the atomic clock technologies of the future is a priority.
Space transportation and technology
The development of space transportation systems and related technologies assures Europe's independent access to space. This independent access is one the pillars of Switzerland's space policy. Swiss companies make key contributions to this sector and have developed excellent skills through their work on current and future European launchers (Ariane 6 and VEGA C), which respond to market developments, increasing competition and the need for sustainable solutions. The development and implementation of a space transportation system such as the mini-shuttle 'Space Rider' are a crucial element of space logistics activities. 'Space Rider' is autonomous, affordable and reusable, and its purpose is also to increase competitiveness at the European level.