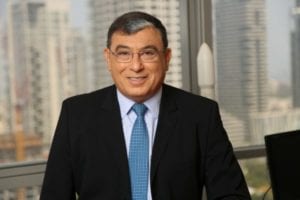 David Pollack, the long-serving Chief Executive Officer of Israeli satellite communications company Spacecom, is to step down after 24 years with the company.
Pollack, a former Israel Aerospace Induistries (IAI) executive, helped found Spacecom in the 1990's and was instrumental in raising the funds necessary to build and launch the AMOS communications satellites through the Tel Aviv Stock Exchange. Pollack also served in the Israeli Air Force, reaching the rank of Colonel.
Spacecom only recently returned to profitability after a disastrous period where its critically important new generation satellite AMOS-6 was destroyed in 2016 after a Launchpad explosion at Cape Canaveral in Florida, United States. As a result, Spacecom was unable to fulfill a U.S.$95 million contract with Facebook to provide satellite connectivity throughout Africa.
This setback was followed by an aborted U.S.$285 million buyout of Spacecom by Chinese company Xinwei Technology. Xinwei backed out of the buyout after the loss of the AMOS-6 satellite.
It is a testament to David Pollack's skill and fortitude that he guided Spacecom back to profitability and stability after such catastrophic events.
Key to Spacecom's revived fortunes is the August 2019 launch of its AMOS-17 communications satellite. Manufactured by Boeing, AMOS-17 is a high throughput satellite (HTS) that will meet Africa's communication demands as originally intended through AMOS-6. The AMOS-17 payload provides C-Band HTS, Ka-band, and Ku-band capabilities through the combination of broad regional beams and high throughput spot beams. AMOS-17 provides connectivity between Africa, the Middle East, Europe, India, China, and Brazil.
In a 31 October 2019 statement released via the Tel Aviv Stock Exchange, Spacecom said that the company has "entered into negotiations" with Pollack about "concluding his position." Spacecom added that a further statement will be issued once Pollack and the company  "have reached an agreement on terms and timing."
Spacecom's executive board committee have begun a search for Pollack's replacement.