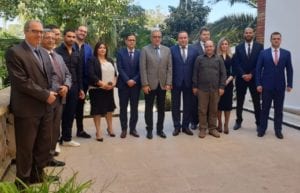 Algeria and Russia discussed expanding space cooperation and increased development of Algerian space capabilities during a visit to Algiers by a Russian delegation consisting of officials and executives from the Russian state space agency Roscosmos, Russian commercial launch provider Glavkosmos, and the All-Russian Scientific Research Institute of Electromechanics (VNIIEM) that is responsible for developing sensors for environmental monitoring, meteorological, and other remote sensing satellites.
The Russian delegation were hosted by Dr. Azzedine Oussedik, the Director-General of the Algerian Space Agency (ASAL), in Algiers on 17 October 2019.
The discussions revolved around the expansion of space cooperation between the two countries, as well as a Russian offer to help Algeria develop future satellite systems. The presence of VNIIEM and Glavkosmos in the Russian delegation suggests that this cooperation and satellite development includes Earth observation satellites and launch services.
After the bilateral discussions, Glavkosmos released the following statement via the social media platform Twitter:
The delegation of @glavkosmos, @roscosmos and #VNIIEM had a meeting with their colleagues from Algerian Space Agency and received a warm welcome from its Director General Dr. Azzedine Oussedik. Issues of future cooperation in the development of space systems were discussed…
Algeria and Russia have strong diplomatic and security relations that date back several decades, with Moscow acting as a major defence and arms supplier to Algiers. While ASAL has created an extensive network of international cooperation agreements with various countries in Europe, Africa, and the Middle East – as well as with China, India, and Russia – joint space activities with Russia have been limited.
The visit to Algeria by the Russian delegation suggests that an initiative to remedy the moribund space ties between the two countries is underway, and could also be seen as part of a wider Russian push in Africa and the Middle East to use space cooperation and satellite technologies as a means to bolster ties and wield geopolitical influence.