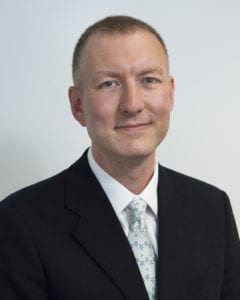 Satellite Vu has appointed a Vice President, Business Development to drive its strategy forward over the coming months and years. Energy industry veteran and International Space University (ISU) graduate, Simon Tucker will take on the role, which will see him returning to the space sector after 20 years.
Simon has spent the majority of his career as a trader in the energy sector. Prior to joining Satellite Vu, he held the post of VP Trading for Smartest Energy, a next generation energy company, supporting smart businesses through the transition to a decentralised energy system. In this role he managed a large and complex trading department comprising multiple teams across trading, pricing, forecasting, operations and risk management. This wealth of expertise in the smart energy market perfectly complements Satellite Vu's mission which is to apply science and space technology to tackle the planet's biggest challenges: plastic pollution and energy waste.
"I am excited to be joining Satellite Vu and to be a part of a company that is working to tackle some of the most pressing and complex issues that humanity faces today," said Simon. "I am looking forward to combining my past experience with my passion for space and helping to deliver these unique satellites into orbit that will make a true difference to our lives here on Earth."
Simon will speak at the UK Space Conference on 24 September where he will address delegates on 'Sustainability Metrics from Space' from 13:23 – 13:28 during Soapbox Session 1. In his five-minute presentation, he will dive deeper into the area of energy waste from buildings, which account for around 40% of energy consumption. In order to address the problem of energy waste, governments and organisations need verifiable facts – hard data that can enable them to grasp the severity of the problem and that can take individual buildings and pinpoint where the main hotspots are. Satellite Vu will launch a satellite sensor that can measure the heat profile of every building on the planet to locate the worst emitters to enable informed decisions to be made on corrective actions.
"Satellite Vu is full of passionate people who believe in bringing about change for the better," said Anthony Baker, CEO, Satellite Vu. "Simon brings with him great understanding and experience of the importance of sustainability and how space technology can bring about a path to transformation in the way energy is consumed. We welcome him to the Satellite Vu team and look forward to bringing our plans to fruition in the near future so that our satellites can start doing the critical work that is needed so desperately."