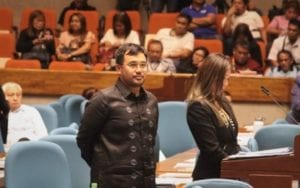 The Philippines News Agency has reported that the Philippines is to move forward with the establishment of its own space agency.  Pangasinan fourth District Representative Christopher de Venecia hailed the creation of Philippine Space Agency (PhilSA) that will aid in the development of agriculture, disaster risk reduction, and telecommunications, as well as space exploration.
De Venecia said a national strategy for space development is needed to keep abreast with trends in space science and technology in key development areas. "A country prone to typhoons and other natural disasters like the Philippines will greatly benefit in space programmes because this also involves improved disaster management, from gathering precise information that gives early warnings and prediction of disasters, to reliable and speedy communication during relief and recovery operations," de Venecia said in an interview on Friday via Facebook.
De Venecia said the PhilSA will work with the Department of Science and Technology (DOST) to ensure that its programs are in sync in service to the Filipinos. "Because of improved weather calculation due to space technology, the space program will likewise enhance production and profitability of agribusinesses, conserve and preserve the environment, and improve urban planning, transportation, and communication," he noted. This law will also pave the way towards space research and development and boosting the industry, further creating jobs and addressing the issue of the brain drain of the science and technology sector, he added.
"The space development and utilisation policy is vital to provide the country's strategic roadmap for space development and perhaps, pave the way for the Philippines to become a space-faring nation within the next 10 years," he said. De Venecia was one of the proponents of the original House measure and the chairman of the Technical Working Group at the House of Representatives.
Philippine Space Development Act, or an Act Establishing the Philippine Space Development and Utilization Policy and Creating the Philippine Space Agency, was signed into law by President Duterte on August 8.