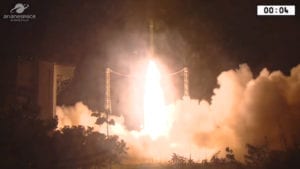 The Vega rocket delivering the Falcon Eye 1 earth observation satellite to space for the UAE, has suffered what has been described as a "major anomaly", resulting in the loss of both the rocket and the satellite.
Approximately two minutes after the Vega launcher's liftoff from the Spaceport in French Guiana, a launcher anomaly occurred shortly after ignition of the Zefiro 23 second stage – leading to the premature end of the mission. Two minutes after lift-off the vehicle began to experience difficulties. Though the cause of the anomaly is not yet known, there is some speculation that there was a problem with the second stage burn of the launch vehicle, which appeared to have veered off course.
During the live webcast of the launch, Arianespace's Executive Vice President of Missions, Operations and Purchasing, Luce Fabreguettes said: "About 2 minutes after liftoff, around the [Zefiro]-23 ignition, a major anomaly occurred, resulting in the loss of the mission. On behalf of Arianespace, I wish to express my deepest apologies to our customers for the loss of their payload."
The flight was Vega's fifteenth flight and its first failure. Designed to deliver around 1,500kg to low Earth orbit, the launcher is the latest in the Arianespace portfolio.
Falcon Eye 1 was designed to provide imagery for the UAE Armed Forces and also the commercial market. It was built by Thales Alenia Space and utilised technology used on the French Pleiades constellation.
Data analyses are in progress to clarify the reasons for the failure and an independent inquiry commission is to be set up.