On September 4-5 2019 the global space scene will meet in Trondheim, Norway for the 3rd edition of the SpacePort Norway event. SpaceWatch.Global's Torsten Kriening had the chance to sit together with Ole Dokka, Executive Director, Spaceport Norway, to learn more about the upcoming event.
Thanks for your time for the interview. This year you will organise the 3rd edition of the Spaceport Norway event. Can you tell us what is it about?
This year our main themes is about resources and the need for improved sustainability on earth and in space, and how these topics are connected. We want to explore how space science, tech and services  are essential for a more sustainable use of and management of resources on Earth, and how we need to go about using these resources where we are in space exploration, In-situ resource utilisation (ISRU) if you will, going forward. These themes are obviously connected, and the connection is interesting: if we can grow food with minimal use of energy and water on the Moon or Mars, that will be valuable and relevant on earth as well. And vice versa, of course.
The world is changing fast, the water-energy-food nexus is more important and relevant than ever, and we believe that increased collaboration between industries and sectors is needed and will unlock new value for many.
As there are a high number of global space events, what is unique about Spaceport Norway?

The key objective for Spaceport Norway, from the first conference in 2017, has always been to create a cross-industrial meeting arena where the space industry meets other industries to explore, discuss and unlock opportunities together. Not only because the potential for more fruitful and valuable collaboration between the space industry and other sectors is significant, but because we really think this kind of meeting arenas are needed to create solutions we need going forward.
We need to increase the speed of innovation in all industries, we need to manage our natural resources much better, we need to tackle climate changes going forward. Our core belief is that increased collaboration between the space industry and other industries holds the key to a better future on earth, and to making the next giant leaps in space exploration.
Can you give us a deeper view of the Norwegian/Nordic Space industry?
The Norwegian space industry is highly skilled and competent, multi-disciplinary, business support and security focused, but fairly small compared to our biggest industries, like oil & gas and fish. At the same time, it is a lot bigger than most Norwegians realise. Our membership in ESA has been instrumental in a lot of small and big organisations to develop business for the space industry and foster new partnerships across borders. There are a few companies dominating the space scene in Norway, delivering technology, products and services to the European and global space industry. A couple of them are world leading – but there are also a wide range of smaller specialist companies that develop world class technology for the global market and have been doing so for many years. They have a couple of things in common:
Very few outside the sector know about them and what they are capable of (including our government and other industries that could benefit from business partnerships)
The potential for commercial growth and more activity is significant in a global market
Personally, I find the time we now live in very interesting. Norway's tech industry is changing (and needs to change faster!) from a very strong oil and gas focus, to other areas. Over the last couple of years, a lot of new companies and institutions are developing drones, robotics, artificial intelligence technology, earth observation services, new health technologies, sensors, propulsion technology and much more. We are also on the verge of developing a commercial launch facility for small and mid-size satellites on Andøya. If this succeeds, this might be the biggest catalyst for change in the space industry and its eco-systems in Norway.
Space and NewSpace in Europe seems to be challenging. How is the NewSpace sector here in Norway? What are the challenges you face and what do you expect from the political side to support the space business?
Space has always been very specialised and very hard from a business perspective, the need for capital is always a major issue. In other words, the eco systems in the space industry are not working and we need to develop and strengthen them! We don't really have a working NewSpace scene in Norway, but several established companies, like Kongsberg Seatex and KSAT, are using the agility and speed of NewSpace business strategies and development in their work, to great success. But there are promising signs of a new generation of young people establishing new businesses as well, inspired by the opportunities the space sector brings, including the future of space exploration that now is hotter than in previous years. Several of them will be exhibiting and presenting at this year's Spaceport Norway in Trondheim.
For Norway, the continued investments in our ESA membership and programmes are extremely important, and also very valuable for our society. I think we are amongst the best in class when it comes to return on investment, getting 5 EUR back (in jobs, business and projects) from every EUR we invest in ESA. So why do we not invest ten times more? Or twenty? As one of the richest countries in the world, much thanks to our oil and gas industry, we actually have the money to do it, but the political will and understanding needs to be there as well, so we need to continue to work on building awareness and knowledge about the opportunities for value creation the space industry represents.
The space industry must take their part of the job a lot more seriously and improve on how it communicates and creates awareness, build stronger business cases and stories based on real value (and not dreams about a distant future), build stronger brands, support initiatives that can increase the activities in the space industry. It is a paradox that space, always regarded as something that inspires and excites so many, is hard to sell from a business perspective. This needs to change – and I think the industry must change with it. It is time.
Coming back to you. Can you tell us more about your background and your ambitions to start Spaceport Norway?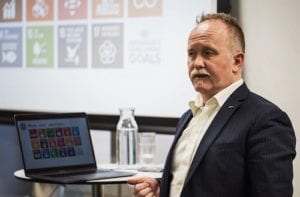 My professional background is in strategy and business development, innovation management and communication in big companies. I have spent over 20 years of my career in leading positions in the two of the biggest companies with global activities in Norway, first in the Telco-industry, then in oil and gas. I gained a lot of experience from working with innovation in these organisations, that more often than not is conservative and not willing to change unless they have to – not unlike the "old" space industry. My primary motivation to develop Spaceport Norway is split in two:
I sincerely believe that more and bigger strategic partnerships between the space industry and other sectors will lead to new and valuable solutions that the world needs to tackle the challenges we face going forward. Earth observation data and artificial intelligence as a platform for next generation decision support systems is one obvious example that we will see a lot of the next few years.
I also believe that the same kind of partnerships is vital for the future of space exploration and development. We need to get beyond science and research in space exploration missions, and on to the next level: build a sustainable presence on the moon and beyond, expand our economy, create value for the benefit of many.
I liked what Jeff Bezos said in a presentation recently: "We are now big enough (as civilisation) to hurt this planet. We cannot keep doing what we are doing. The only way to continue to expand and innovate as a civilisation, is if we expand our economy to space" …or something like that. I hope we will see large scale infrastructure projects over the next few years, and dramatically reduced access cost for young space companies – then new things will happen. I really would like Spaceport Norway to have a role in this exciting development.
Why space and what does space mean to you?
Like so many others, I dreamt about being an astronaut as a kid. I was three years old when Neil Armstrong and Buzz Aldrin walked on the moon 50 years ago, sitting on my father's lap and watching it all on TV – I think this is my first real memory! But I never became a space buff, I just think it is so incredibly important for our civilisation to take the next, big steps. Not only because "We are explorers", but because we need it to evolve, and to put less pressure on our Earth´s resources.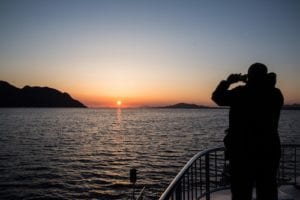 A future where we have learnt how to build, work and live in space, use the resources on the moon, mars and beyond – is a future I find deeply inspirational. That future also includes the fact that we have been successful in using space science, technology and infrastructure to take better care of our home planet.
What can we expect from Spaceport Norway in the future?
We have several plans for further development in the coming years. We will continue with our annual conference. In addition, we have ambitions for programs be developed for students and schools, smaller business workshops together with partners, and a few other things it is too early to talk about. Let me put it this way: 2021 will be a very special year for Spaceport Norway…and we will probably announce some of the plans in Trondheim in September this year!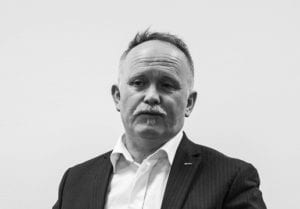 Bio: Ole Dokka is a multidisciplinary leader and strategist, working in the intersection of innovation, design, technology and digital business, since the beginning of the Internet economy in 1995. He has held leadership positions in several big companies in Norway, among them Telenor and the global energy company, Statoil (now Equinor) In addition to the position as Executive Director for Spaceport Norway, he also holds a position as Chief Strategy Officer in the strategic event company Conventor. Ole Dokka is based in Stavanger, Norway, where he lives with his family of 5 + 2 cats and a lot of surfboards, skateboards, snowboards, golf clubs and tennis rackets.
SpaceWatch.Global thanks Ole Dokka from SpacePort Norway for the interview.
SpaceWatch.Global is proud to be media partner of SpacePort Norway.