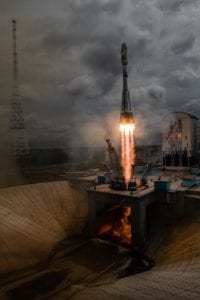 Exolaunch has completed a successful payload integration for a Soyuz launch from the Vostochny launch site. In total, Exolaunch has contracted and integrated for launch 28 commercial and educational satellites from Germany, France, the USA, Israel, the United Kingdom, Sweden, Finland, Thailand, Ecuador, the Czech Republic and Estonia. The complete list of smallsats follows.
The smallsats will be launched on a single mission – this will be one of the largest and most technically challenging clusters ever delivered by a single small satellite integrator. All smallsats are very diverse, including 25 cubesats ranging from 0,25U to 16U, two commercial microsatellites and Exolaunch's technological payload with a new shock-free separation system.
Momentus, a US-based pioneering in-space transportation company that will deliver the first ever 16U cubesat; Spire Global, one of the world's largest space to cloud analytics companies; Clyde Space, the UK-based leading cubesat developer and NSLComm, a revolutionizing satellite communications company are all present. Additionally, German Orbital Systems, a Berlin-based leading cubesat developer and a number of European universities are represented on this mission.
All cubesats on this launch are integrated into 12U and 16U EXOpod cubesat deployers provided by Exolaunch. EXOpods were already successfully flown on multiple missions and deployed dozens of cubesats. The deployment process and sequence of cubesats will be controlled by Exolaunch's electrical management unit EXObox to ensure safe and timely deployment.
CarboNIX, the company's new shock-free separation system for microsatellites from 15kg to 150kg, will be qualified on this launch. CarboNIX will be widely used for the smallsat constellations deployment after successful qualification in space.
The smallsat cluster was adapted to the Fregat upper stage by NPO Lavochkin through the cluster launch contracts with Glavkosmos.
The Fregat upper stage will firstly deploy the primary satellite into its dedicated orbit and then change the altitude to deploy all small satellites into two different sun-synchronous orbits – 580km and 530km followed by the upper stage deorbit.
With over 50 microsatellites and cubesats launched, the Exolaunch's team is looking forward to the upcoming launch of these 28 smallsats and is preparing for a number of new launch campaigns for smallsats later this year, throughout 2020 and beyond.