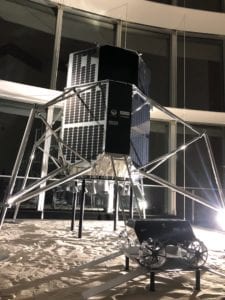 By Lynn Zoenen, Global Affairs Manager at ispace Europe
The Moon Momentum
The first half of 2019 has already proven to be a worthy time to celebrate the 50th anniversary of the first human landing on the Moon. With China's Chang'e-4 mission to the far side of the Moon in January and its proactive approach to create a permanent Moon Base, Israel's private lunar mission in February – which has paved the way for commercial lunar missions, India's very first mission to the south pole, expected to be launched in September, and NASA's U.S.$2.6 billion Commercial Lunar Payload Service program and the American ambitions to send humans back to the Moon by 2024, the Moon race is on.
The Rationale Behind the Global Race to the Moon
The Moon is the prime location to learn how to live and work on a celestial body in a sustainable matter, to extend human presence beyond Earth, and to prepare for more complex deep space missions and long-distance destinations.
From a scientific point of view, the Moon can teach us lessons about the origins of the Solar System, the process of volcanism, the output of the Sun, as well as the history of collision of large bodies which will give us a better understanding of climate change on Earth and help us protect our planet from asteroid impacts. In 2018, scientists have found definitive evidence of water ice on the Moon's surface: NASA's Moon Mineralogy Mapper, which flew aboard Chandrayaan-1 – India's first Lunar mission, confirmed the presence of solid ice sitting within the first few millimetres of the lunar surface.[1] This leads to the economic rationale of the race to the Moon: the water can be used in-situ as human life support in the form of breathable air and as a valuable element for growing food in outer space – which will essentially reduce the costs of launches as these elements will not need to be lifted from Earth. Most importantly, however, Lunar resource utilisation will act as the key driver of future progress in space exploration as it lays the foundation for the in-situ production of rocket propellant to launch rockets from the Moon and refuel satellites in LEO.
Besides, the Moon should not be considered as an exclusive laboratory for the space industry – it bears tremendous economic potential for both space and non-space companies. While European telecommunications companies can support commercial Lunar exploration companies by creating the necessary infrastructure for reliable communication on the Moon and back to Earth, the automotive and logistics industries will have the opportunity to develop autonomous driving and path planning activities with Lunar exploration companies. And just as healthcare companies will have access to the Lunar surface for experiments in a low gravity and high radiation environment, the energy industry will have a lab to test Lunar night survival technologies on the Moon. Ambitious visions like ESA's Moon Village not only require an open international framework but also cross-industrial collaboration.
Last, but not least, Lunar exploration showcases political strength and national identity and has the additional benefits of cultivating the next generation of space professionals and fostering progress through future-oriented and innovation-driven projects.
Space+19 – Europe's Chance to Build Lunar Competitiveness and Go for the Real Commercial Opportunities
Unfortunately, Europe is not likely to be the winner of the Moon race unless it moves quickly in developing a coherent strategy combining high political ambitions and a commitment to commercially available capabilities in the run-up to Space+19. If Europe does not want to become the Old Continent in New Space-driven Lunar exploration, it will be vital to get approval for the Lunar ISRU Demo Mission at the ESA Ministerial Council in November 2019 and to complement it by a more agile, iterative and small-scale series of Lunar missions with smaller robotic landers and rovers addressing concrete national and European science and technology development needs. We have entered a new era of Lunar exploration: we are observing increased international support for the provision of commercial services for public missions, based on Lunar New Space companies' ability to meet requirements fast and at a low cost through agile development processes, the use of commercial-off-the-shelf (COTS) components and their bold attitude in terms of risk-taking.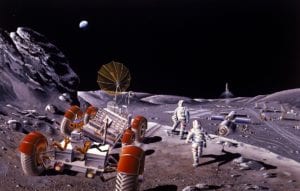 Europe stands at a crossroads. The way it will choose today determines its industrial competitiveness in the future. Either the Moon will remain a U.S.-led terrain and New Space will remain a buzzword for Europeans, or we join forces, collaborate, and create an enabling framework for commercial companies to work side-by-side with regional and national space agencies in Europe. Through collaboration, Europe could be at the forefront of Lunar technologies and projects and setting new rules and standards, instead of adopting what is suggested by the first movers. If Europe opts for international collaboration, its political ambitions will have to be bundled in a long-term strategic vision and a consequent implementation which might become a task for the future European Space Council – an idea Commissioner Bieńkowska launched at the 11th Conference on European Space Policy in Brussels.
Planning Ahead – Making Europe a Hub of Excellence in Space Resource Utilisation
While the first step towards European Lunar exploration leadership will focus on developing payload delivery service and prospecting capacities, European ambitions shall not end here as the most promising business opportunities lay in space resource utilisation activities.
Luxembourg is the first European country to have sensed that space resource utilisation will be a key turning point to develop technologies that will bring down costs of near-Earth but also deep space exploration missions on a large scale. In its recent Space Resources study, the Luxembourg Space Agency expects the space resource utilisation industry to generate a market revenue of up to €170 billion between 2018 and 2045, supporting up to 1.8 million full-time jobs.[2] The combination of the economic rationale behind space resource utilisation and the ever-increasing global refocus on the Moon makes Lunar resource utilisation a highly promising space niche for Europe. Over the coming years, Europe will have to take bold action to develop technologies to extract, beneficiate, and utilise Lunar resources.
The competitive advantage Europe can build on is twofold: First, it can leverage the unique expertise ispace Europe is currently building. In collaboration with Imperial College London, we are developing a Lunar resource beneficiation system based on volatile and ice-bearing regolith processing, enrichment, and recovery. With the University of Luxembourg, we conduct research on Lunar mining operations which will allow us to use resource data to model, assess, and plan the exploitation of Lunar mines and thereby generate data products for the mining industry. It is by no means a coincidence that ispace is carrying out all of these tasks in Europe. After triggering the initial industrialisation of mining, Europe is home to all major mining houses today. Some of the world's largest mining equipment manufacturers are Finnish, Swedish, German, and French. In the future, ispace intends to work with these companies to develop mutually beneficial technologies and to re-invent mining and make sustainability a key requirement from the very beginning. Europe can thus play a prime role in setting the right framework: by capitalising on the vast expertise from the terrestrial mining industry and creating an enabling framework for commercial space resource utilisation companies, Europe can create the best conditions to steer the course of space resource utilisation.
The Way Forward – Striking the Right Balance Between Competition and Collaboration
Looking back at Lunar exploration history, one can observe a first Lunar era during the Cold War, driven by geopolitical competition and political power, which was followed by the most ambitious international collaborative project, the International Space Station (ISS). The new race to the Moon is likely to take on a different shape. While the new global race to the Moon per se is without any doubt about competition, the creation of a new ecosystem on the Moon will require international collaboration.
The same applies to the European dimension: On a global scale, Europe should be bold enough to ramp up its Lunar projects and to aim at becoming a leader in the initiatives of its choice. On a European level, Europe has always opted for collaboration. There has never been a "Europe first" because Europe has always benefitted from strategic international partnerships. In the European space industry, geo-return ensures a safe and fair allocation of funds to ESA member states and their companies, but not to the most competitive ones. Europe has always chosen to go down the consensual way and today, the continent is known for its mediation skills and admired for its strong sense of democratic values.
Although ispace does miss a pinch of the competitive spirit, it will be vital for Europe to strike the right balance between competition and collaboration. Competing on an international scale and not giving in to the sirens' calls to exclude international development activities that create unique expertise in Europe is the most promising way forward. Europe can become a Lunar leader. The best time to plant a tree was 20 years ago. The second-best time is now.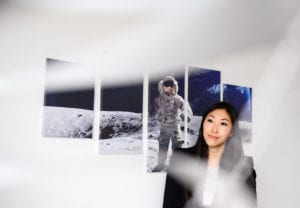 As ispace Europe's Global Affairs Manager, Lynn Zoenen manages ispace's European non-space branding and technology development partnership sales. In addition, Lynn is in charge of Government Affairs, engaging with governments and Space agencies to construct mission partnership frameworks and policies that promote the development of commercial lunar exploration and space resource utilisation.
Before joining ispace Europe, Lynn contributed as an economic advisor to the strategic orientation of the Chamber of Commerce of the Grand Duchy of Luxembourg. Lynn holds a Master's in International Political Economy from King's College and a Bachelor's in International Business Administration.
Notes
[1]Shuai Li, Paul G. Lucey, Ralph E. Milliken, Paul O. Hayne, Elizabeth Fisher, Jean-Pierre Williams, Dana M. Hurley, and Richard C. Elphic (2018): Direct evidence of surface exposed water ice in the lunar polar regions.
[2]Luxembourg Space Agency (2018): "Opportunities for space resources utilization future markets & value chains."