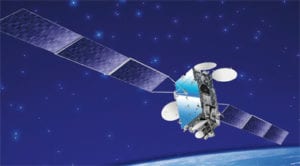 China's leading satellite broadcasting company, China Satcom, is investigating alternative business models as it braces for the impact of the 5G network revolution that will likely render satellite television a thing of the past, according to a report in the Nikkei Asian Review.
According to the report, China Satcom executives are worried that at least 60 percent of the company's revenues are at risk in the coming years as 5G networks come online, and consumers start to stream video and programming on handheld devices instead of through traditional television sets through satellite broadcasting. As a result, China Satcom is looking at emerging applications for its satellite fleet, such as Internet of Things (IoT) connectivity, smart ships and vehicles, and the maritime sector that will, for the foreseeable future, be unable to reliably access 5G networks.
"Millennials prefer watching TV online, and the only thing that has held them back is a slow internet connection…But that problem will be solved once 5G networks are in place. As a result, demand for our satellite television service will peak, if not wind down," said a China Satcom executive speaking anonymously with the Nikkei Asian Review.
"The arrival of 5G is bad news for satellite companies. We have no choice but to diversify our business," added the China Satcom executive.
China Satcom is therefore looking at the maritime connectivity market as part of its diversification plans. The company already serves over 5,000 vessels, to include the entire fleet of Hong Kong-based China Ocean Shipping Company, by providing satellite-based WiFi mobile telephone services and direct-to-ship entertainment for cruise liner passengers and cargo ship crews.
China Satcom also sees opportunities in providing satellite connectivity for so-called smart shipping where fishing vessels, for example, can send data on their latest catches via satellite in real-time to customers on land who can then purchase fresh seafood before it even returns to harbour. Smart shipping also includes utilising satellite connectivity to sell cargo on container ships to buyers before the ship reaches its destination port.
Lastly, China Satcom is also looking at tapping into the estimated U.S.$750 million IoT satellite connectivity market, providing such services to Chinese consumers at home and abroad to seamlessly connect IoT devices and sensors, autonomous vehicles, and facilities over vast geographical distances.
"With the world turning to 5G, I think satellites will play a role as part of a hybrid network with 5G to connect offices, factories, robots, internet of things sensor devices, as well as aircraft, vehicles and ships," said Gareth Owen, a space expert at Counterpoint Research, in an interview with the Nikkei Asian Review.
"We believe the use of satellites and internet-connected devices will become the next big thing in the shipping industry," added the anonymous China Satcom executive.
SpaceWatch.Global's Kristina Juul reported last week that China Satcom is planning an Initial Public Offering (IPO) on the Shanghai Stock Exchange in June 2019, though the uncertainty surrounding the future of its core satellite broadcasting business could overshadow this.