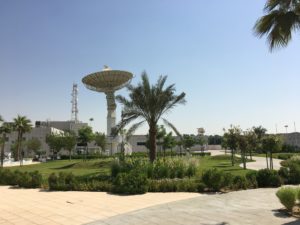 National Geographic today announced a four-year partnership with the Mohammed bin Rashid Space Centre, MBRSC, to document the UAE's journey into space. In a four-part documentary series, National Geographic will present to the world the UAE's rise into space, its achievements and ambitions.
The series is set to capture the essence of why and how the space industry was established in the UAE, its importance and how it plays a larger role in tackling the environmental challenges facing the Earth today, from climate change to declining natural resources, to food security. At the same time, the series will examine the feasibility of life beyond our planet based on data collected from space and advanced research.
"We are so proud of this groundbreaking partnership, which celebrates the UAE leadership's bold vision to inspire generations of Emiratis to reach for the stars," said Sanjay Raina, Senior Vice President Fox Networks Group and General Manager for Middle East, North Africa and Pakistan.
"Our fascination with space goes back over 100 years and we have been passionate about bringing stories of new frontiers of exploration to audiences around the world since then," he added.
The National Geographic series will capture stories such as the development and historic launch of KhalifaSat, the first 100 percent Emirati developed satellite, travelling to Mars, and building the first city on Mars. The KhalifaSat is one of the world's most advanced remote-sensing Earth observation satellites built in the MBRSC Space Technology Laboratories. It was successfully launched into orbit on 29th October 2018, from Japan's Tanegashima Space Centre aboard the H-HA rocket.
"What is equally important in this massive undertaking by MBRSC is its goal: to create sustainable solutions to our global resource and environmental challenges and provide an international platform for knowledge sharing and development," Raina concluded.